Alex Ordoyo's Sibol is now a featured show at Eskinita Art Farm in Tanauan, Batangas from May 9 to June 20, 2021.
Sibol is the first solo show of Ordoyo who is a 2019 Eskinita Tuklas Grantee, a discovery program for artists developed by its founder and director Alfredo Esquillo and the gallery's resident curator Renato Habulan.
Sibol presents 17 masterpieces of Ordoyo and the collection is described by Jay Bautista as something that "deeply incorporates contemporary visual language employing old school aesthetics with illustrative crafts on textured canvases" and his review, entitled: "Ethereal and Organic".
Alex Ordoyo's Sibol collection mirrors an imagery of his hometown environment in Sta. Barbara, Iloilo wherein "every day he wakes up to its cool clime amidst the sight of shrubbery vegetation and sprouting wildflowers surrounding him and his family communing with Mother Nature."
Also read Alex Ordoyo: Destroyed and the vitality of Alex Ordoyo
It is his surroundings that dominates the theme of his works and "it centers or dwells on his enchantment with the environment," Bautista emphasized.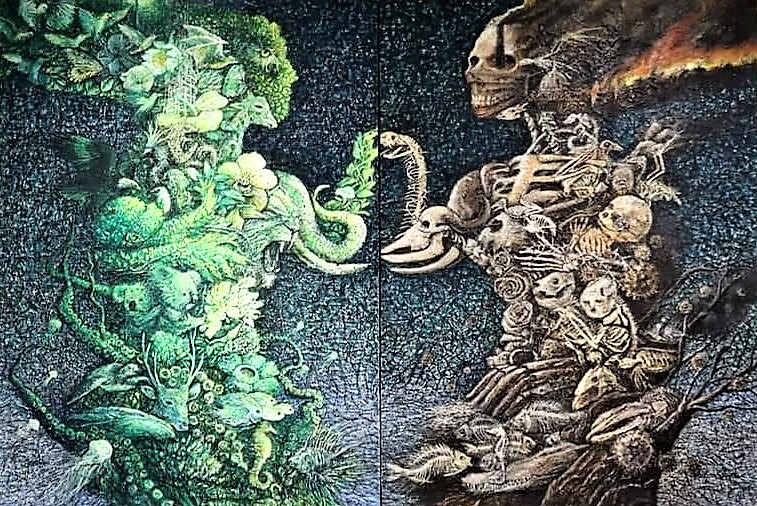 The body of works of Alex Ordoyo "revolves around nature and its creation and even espousing on its eventual degradation–rooted in identity and memory–the response is blatantly visual close to detailed intimation."
Sibol is a Tagalog word which is used to describe a growing seed like a bud or sprout. In this show, however, it means a "temporary respite from the rapid conundrum of our extended mortal existence."
See the full collection of Sibol here: Alex Ordoyo-Sibol-catalogue of works
Now on its mid-30s, Alex P. Ordoyo explores different themes ranging from nature and social issues. His 2018 masterpiece entitled: "Destroyed" which deliberated on the destruction of Marawi City as a result of the war between government forces and terrorist groups using monochromatic approach earned him a grand award for watermedia on paper category during that year's Metrobank Art and Design excellence Awards.
Sibol exhibit viewing is from May 9 to June 20, 2021. To view the works of Alex P. Ordoyo, you may contact
Eskinita Art Farm
, Purok 5, Janopol Occidental, Tanauan, Batangas. You can 0917-885-0730 for appointments.
*Some text and photos were taken from Eskinita Art Gallery, Eskinita Art Farm and from Alex Ordoyo.