Baysulangpu Artists Society is back in the Iloilo art scene after 16 years of hiatus with a show "Paradigm".
Paradigm will present recent works of 18 Baysulangpu or "Baysu" members as they commonly call each other. The collection will show an intermingling masterpieces of the original, and now senior members, together with the young and new breed of Baysu artists.
The show will start May 10, 2021 at the upscale Festive Walk Parade at the Iloilo Business Park of Megaworld Iloilo.
Baysu's Paradigm
Paradigm is a novel name to most ears, said Baysu; it may raise eyebrows and stir confusion among the Gen Z yet Paradigm is a name that is familiar among Millennials in the Iloilo art scene.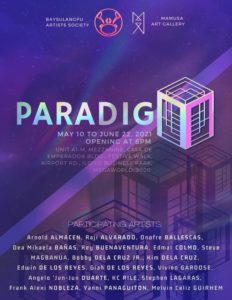 Paradigm, in broad terms, usually describes a theoretical or philosophical framework and it perhaps defines the direction of Baysulangpu Artists Society for the new decade.
Admittedly, Baysulangpu has been silent for the past 20 years, the group said, so silent that its name was almost forgotten until new generations of artists have arrived.
This is the reason why Paradigm is highly anticipated exhibit for it serves like a formal reintroduction of the 20-year old group known for its lowkey and unpretentious character in spite having award-winning members who have earned the respect and reverence of art collectors, scholars, stakeholders in the art sector, and the public in general.
Also read about art during the pandemic: ILOMOCA 5 art collection can calm pandemic pains with its nature-inspired hues
Formed in 2001, Baysulangpu is a unique name which reflects the language of its generation – a neologism. The 90s was a period wherein GenX Ilonggos tend to converse by rearranging letters, a practice of anagram, which eventually form slang words used by a particular group of people, a gang, or an organization.
Examples of words in a conversation were "reeb" to mean beer or a woman's name Dina converted to "Anid" – a reading of letters from an opposite direction.
Hence, Baysulangpu gained uniqueness from an anagram of the words "pula nga subay" – a Hiligaynon word for red ant, probably a weaver ant or fire ant.
Baysulangpu Artists Society will re-energize Iloilo art scene
The artists who formed the group represent a period of time in the Iloilo art scene. While "Baysu" may have been silent, many of its members maintained art creation and engagement in the art scene by mounting individual or solo art shows; participating in collaborative exhibits; and by joining regional and national art competitions.
Prominent among them is Baysu co-founder Melvin Guirhem who earned the grand prize winner of the 25th Philippine Art Awards in December 18, 2020 for his masterpiece entitled: "Failed Reconciliation" a personal narrative that he rendered on a canvas.
Another award-winning member is artist and photojournalist Arnold Almacen whose photos are sought after by collectors.

Since its formation, Baysu has established award-winning members.
To backtrack, Baysu's last big exhibition was February 14, 2005, entitled: "Self-Portrait" held at the University of the Philippines Visayas Art Gallery (UP Visayas).
It was Melvin Guirhem who held his 2nd Solo billed "Diminishing Thumbmark" at the UP Visayas Art Gallery in January 2017 or 12 years after the last Baysu exhibit at the gallery.
The IIoilo art scene will definitely be re-energized by the re-entry of Baysu considering that the regional center is experiencing a renaissance in the last five years only to be slowed down by the pandemic.
Recent works by Baysulangpu
Iloilo's art scene will become more dynamic with Baysulangpu. This is manifested in the recently mounted online exhibit by Baysu called: "TURNOVER" at the Ilonggo Artists Galleria.
TURNOVER was organized in collaboration with the Iloilo City Government and it was intended as a fund-raising effort in support of the Covid-19 vaccination roll-out.
The online exhibit and sale offered 33 new artworks of different mediums from March 29 to April 29, 2021 and with a parallel actual exhibit of works at Festive Walk Mall.
The group closed Iloilo City's pandemic year 2020 by converting a dull blank wall at the populous Benigno Aquino, Sr. Avenue into a colorful green-themed public mural.
The 100-meter public art fronting SM City Iloilo depicted the Ilonggo life under the pandemic to honor health frontliners; show collective effort by government and private sector; and landmarks of Iloilo City.
In the show Paradigm, you will see the works of Arnold Almacen, Stephen Lagaras, Melvin Guirhem, Frank Alexi Y. Nobleza, Rey Buenaventura, Angelo Duarte, Onofre Ballescas, Genesis C. Rile, Steve Magbanua, Edmar Colmo, Raji J. Alavardo, Edwin De Los Reyes, Giah De Los Reyes, Vivien Gardose, Yanni Panaguiton, Bobby V. Dela Cruz, Jr., Kim V. Dela Cruz, and Dea Mikaela Banas.