The Coronavirus pandemic has brought the works of art by renowned Ilonggo artists in the digital platform. Terminal 240 Art Space will open an online exhibit, entitled: "Renewed Existence" on July 25, 2020.
In this online show, you will see the works of reputable Ilonggo artists: Margaux Blas, Clark Soriano, Melvin Guirhem, Man-Man Cayona, Rommel Anglacer Garde, Larry Ballera Vargas, Brando Banga, Nil G. Cap, Jzy Tilos, Edmar Colmo and Frank Alexi Ymalay Nobleza.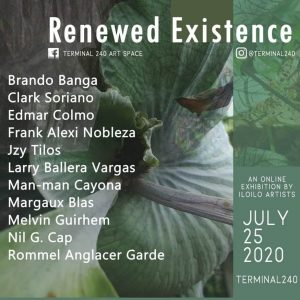 "Our nature as human beings is to grow and move forward. Today, living in this fast-paced technological world, it is nonetheless imperative to be ahead even with yourself. But no matter how advanced we thought this world is, we were faced with something bigger than we imagined," expressed by the exhibit statement.
It underscored that "the pandemic happened and what we have built started to crumble one by one. Jobs were lost, stock exchanges downtreading, people fighting over basic needs, loved ones getting sick, lives were changed and some were lost. It is a traumatic experience on a global scale. We had seen the darkness for this year alone numerous times. But we must remember there will always be light after darkness, peace after war, and getting up after a fall."
"This pandemic made a full stop of what we had been struggling of doing everyday and brought about realizations that there are some things in life that should not have been taken for granted–family time, discovering new talent or hobby, trading food with personal possessions, making time for oneself and finding more inner peace," it reflected.
"Despite what we have been through, nonetheless we still strive to move forward. A new beginning awaits us," concluded Renewed Existence in a reassuring message penned by MBQ.
See the works of Ilonggo artists in Renewed Existence. Visit Terminal 120 Art Space through Instagram: https://www.instagram.com/terminal240/ or Facebook at Terminal240ArtSpace