The Initiatives for Dialogue and Empowerment through Alternative Legal Services (IDEALS, Inc) has launched a quick response hotline to provide accessible legal advice, consultation, and information aid to the public amid the COVID-19 pandemic.
The legal services non-government organization aims to address the crucial need of the communities for correct information and communication in times of crisis and emergencies.
"Everyone should have access to factual and relevant information and practicable advice, so they can
have guided decisions during this challenging time," IDEALS legal coordinator Atty. Ansheline
Bacudio said.
Lawyers and paralegals, through the hotline, give free legal assistance by responding to queries about
government protocols, relief operations, social welfare concerns and legal rights education in the
context of the enhanced community quarantine.
The abrupt declaration of President Rodrigo R. Duterte to implement an enhanced lockdown in Luzon on March 15 has brought panic and confusion to millions of Filipinos. The continued press briefings of the
government, however, lacked clear and detailed plans and strategies on how to overcome this health
emergency.
Thus, the government, up to this date, have failed to appease the public.
While other countries battle the coronavirus, the Duterte administration wages a war that hurts mostly the poor, the organization believed. Because of this, IDEALS, Inc. came up with several efforts to reach out to the public and provide a platform where they can can air their concerns, and in return, give them attainable and immediate solutions.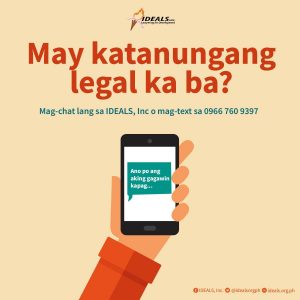 Since the onset of the lockdown, IDEALS has already catered to over 200 clients. It mostly consisted of employees, from low to middle income earners, who sought out clarification on their rights during the lockdown.
Among others, they are taxi drivers, street vendors, construction workers, LGU employees, utility personnel including janitors and guards, and concerned citizens who wish to inquire about the latest government announcements and ordinances.
Most of them reside within the NCR, but there are some who reside outside as in Tarlac, Bacolod, or Cabanatuan.
Hotline data analyses have also showed that the most Filipinos are affected by illegal dismissal or suspension of employees, salary and hazard pay issues, closure of the employer's business, and slow or lack support from local government units.
"Many respondents are distressed over meeting their day to day expenses. Without work and pay,
daily wage earners in low-income communities have no money to buy food and other necessities, and they must rely on government dole-outs that may or may not be given to them," shared Atty. Bacudio.
"This proves that the right to quality life is greatly compromised," Atty. Bacudio emphasized, and "that the government fails to assure its citizens, especially the marginalized, by securing their primary needs."
The hotline receives an average of 10 to 20 questions daily through SMS using the IDEALS Dignidad
hotline, the IDEALS Facebook page and Radyo Veritas.

IDEALS have also found it necessary to push for an online information campaign to equip the public with
pressing news, critical information and comprehensive reports in connection to the current events.
The campaign drive hopes to compensate for the inefficiencies of the government to provide a transparent and thorough action plan for curbing the spread of the coronavirus.
"We want to reinforce our advocacy to empower citizens, most importantly the vulnerable sectors, by
providing them with truths, human rights and legal education that will help them cope with their
situation," Project Manager for Media and Communications Mikhaela Dimpas underscored.
The organization has published a series of communications materials that tackle rights of workers, FAQs
on checkpoints, relief assistance, guidelines for the community quarantine, psychosocial support,
gender issues, rights of OFWs, and many other pertinent topics.
[Gain access on these communications materials @idealsorgph – Facebook of IDEALS, Inc.]
Apart from the heightened information aid, the organization also does a monitoring and documentation of emerging human rights violations prompted by the government's procedures. After verifying these cases, the legal team of IDEALS then provide legal assistance to help them access justice.
The government's response, instead of acknowledging the severity of the pandemic, rather tightens
grip on human rights, leaning on a fractured and unsupported healthcare system that is buckling under
the weight of the pandemic, IDEALS maintained.
"Human rights must always be upheld and respected at all times. This crisis is not an excuse to violate
the rights of the citizens. The government should ensure that even in trying times, the citizens should
continue to live with dignity," Atty. Bacudio insisted.
For any concerns and questions, you may reach the IDEALS Hotline through 0966 760 9397 or chat
our IDEALS Facebook Page.