On the first week that the Philippines was put on lockdown on March 15, 2020 to curb the spread of the COVID-19 pandemic, business owner Jan Paula Fabro saw her sales decline by 50%. However, she was able to immediately adapt with the help of e-payment solutions.
Fabro is the owner of iPalengke, an online business that sells fruits, vegetables, seafood, chicken, and meat to consumers. Launched in January 2020, iPalengke delivers these items from the market straight to their customers' homes. Thankfully, the family business slowly recovered after the first week of the lockdown, and eventually saw incremental but steady increase in sales throughout the enhanced community quarantine (ECQ) period.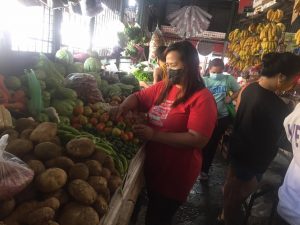 "We initially had a problem with our supplies because most of it is sourced from Baguio and Pangasinan, and there were lockdowns going in and out of Metro Manila. There was high demand, and thankfully, the government saw this so they eased restrictions," Fabro noted.
A major factor that helped iPalengke succeed is the use of digital payments and e-wallets. Fabro admitted that before the pandemic, she rarely used digital payments. They would get cash on delivery (COD) payments from customers. But since they started using digital payments, Fabro said transactions became more convenient and efficient.
"There were some customers who didn't know how to use digital payments. But since we really discouraged customers from using COD, we took it upon ourselves to educate them on digital payments. Now, most customers pay for their products even before it gets delivered. It gives us a sense of assurance and security when they send the screenshot of their payments," Fabro said.
Aside from using them to receive payments, Fabro also uses digital payments to pay for supplies and employees' payroll. Fabro mainly uses Unionbank, BDO, BPI, and GCash because she claimed these are convenient and have minimal service fees.
For Fabro, digital payments enabled continuity of business transactions and created less cash flow problems. Through her use of digital payments, she was also able to grow her customer base. "We offer convenient, safe, and secure transactions for our customers using digital payments. That and the service we provide are the main reasons why many of our customers recommend us to their friends," she added.
Rise of digital payments
iPalengke is one of many micro, small, and medium enterprises (MSMEs) that adopted — and benefited from — digital payments during the ECQ period.
Since March, there has been an increase in digital or electronic payments in the Philippines via InstaPay and PESONet, two payment schemes under the Bangko Sentral ng Pilipinas' (BSP) National Retail Payment Scheme (NRPS).
According to PPMI data, the number of InstaPay transactions from March to May 2020 was at 29.53 million. This is 76.24 percent higher than pre-ECQ figures of 11.57 million from December 2019 to February 2020. The number of PESONet transactions, on the other hand, spiked by 89.06 percent with a total of 6.90 million transactions from March to May 2020 as compared to December 2019 to February 2020 numbers. The value of transactions on InstaPay and PESONet also increased.
"PESONet transactions value in March to May of this year was PHP 134.04 billion or 34.05% higher compared to combined figures from December 2019 to February 2020. For InstaPay, transaction value in the same period amounted to PHP 175.51 billion, around 54.43% higher than the previous three pre-ECQ months," said Carmelita Araneta, General Manager of the Philippine Payments Management, Inc (PPMI).
She added: "The increase in InstaPay and PESONet transactions show that Filipinos have adopted digital payments as part of the new normal. Many business owners and individual users have seen the value, convenience, and safety of using e-wallets. As our economy slowly adjusts to the realities of the pandemic, we believe that digital payments will become a regular part of the way we conduct our transactions."
During the ECQ, the BSP encouraged the use of digital payments as accessible, convenient, and secure ways to do transactions. In April 2020, BSP Governor Ben Diokno in a video message, even encouraged MSMEs to use digital payments in their transactions.
For Fabro, this experience proves true. "Online platforms are not perfect but we have to try and learn them to adapt. It's riskier to go out and line up to get cash. For business owners, online payments allow us to maximize our time and increase our customers exponentially," she noted.
Safe and secure
On the consumer side, individual holders of traditional transaction accounts have also been shifting to digital payments since the ECQ period. Such is the experience of Russel Patina, a brand strategist based in Pasig City.
Before the ECQ, Patina did not use digital payments and e-wallets because he wasn't sure about their safety. "Data security was a big concern. I wasn't sure that my e-wallets are protected from hacks and scams, and that my personal information would be secure," he noted.
This is a valid concern given that the rise of digital payments usage during the ECQ period also saw an increase in online crimes and financial scams. This is why financial institutions have been putting in place more stringent systems to protect customers from such frauds. The BSP has also warned users to protect their information to avoid being scammed.
When the ECQ was put in place, Patina had no choice but to use digital payments to pay for bills, merchants, and other products. He realized that they were convenient and safe to use, especially in a time of pandemic.
"Since I started using digital payments, I now see ATMs as obsolete. I'm still afraid to go out and visit a bank. I believe that because of this pandemic, more and more people will see the value of online banking and e-wallets," Patina said.
He added: "Digital payments are safe but consumers also have a responsibility to protect their own information like not divulging their information, and protecting their passwords."
The BSP's financial literacy and inclusion initiative has been running a campaign, "#SafeAtHome with E-Payments", to promote digital payments with the banked segment of the population since April 2020. Those interested to learn more about digital payments can visit BSP's social media platform for financial education Pisolit for more information.
###
USAID/E-PESO is a project funded by the United States Agency for International Development that aims to help transition the Philippine economy from cash/ checks to electronic payments for broader-based economic growth and financial inclusion. USAID/E-PESO is in partnership with the Bangko Sentral ng Pilipinas and the payments industry in the ongoing "Safe at Home, Use E-Payments" communications campaign to encourage Filipinos to use digital payments especially during the COVID-19 global pandemic.