This is not the first time for Shiela Molato to show her work. She had participated on a couple of collaborative art exhibit among Ilonggo artists in Iloilo.
Last year, Molato's works took centerstage on Quolab together with other artists from a mixed discipline. But Placid is different. This is groundbreaking for Molato for it is a first major step which officially signified completion of her self-transformation project from nursing and then photography.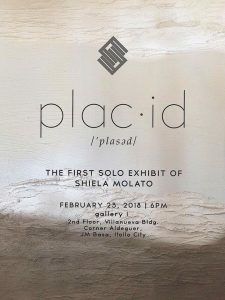 She still has both of the discipline by heart. Yet it is "art that offered contentment and freedom to her," she shared. It is her lifelong dream and Placid, her first solo exhibit, is an attainment of her aspiration of becoming an artist.
She had arrived, as defined by many artists before her and her work can speak for itself and define her as an artist today as a benchmark of her continuing self-evolution.
We found parallelism on her circumstances and transformation process for, we too at the IMT News, is threading at the crossroads of alterations to keep up with the demands of the times with content that are relevant. This is the reason why you have "In the Frame." This section is not just about art and its nuances, but rather about the lives of people that give life to art.
So, it comes with honor for this section of the Iloilo Metropolitan Times to be allowed by the artist to chronicle this significant chapter of her life – the making and coming out of Shiela Molato. She is the first female Ilonggo contemporary artist to grace this section and she make us proud as Ilonggos.
IMT: In October last year, you showcased four of your artworks during the Quolab Iloilo Exhibit. Can you tell us about these artworks the you presented?
Molato: I had four pieces in Quolab. The exhibit was all about collaboration. My pieces were about ideas and elements coming together and contrasting with each other. Differences can cause conflict or they can open doors to new perspectives and experiences. Allow me to go through each of the pieces.
COMPOSITE was about celebration of diversity, of the transcendence of the ordinary, of the unexpected beauty that comes with the melding of differences.
LUMINANCE, on the other hand, was a reflection of the light and shadows that touch every life. In the physical world, no vision can exist without the other. For an absence of either results in blinding light or debilitating darkness. In a more spiritual sense, light and darkness both have purposes to serve in our formation as people: in the shaping of our consciousness, our world views and our philosophies. Spread out in a canvas, we can appreciate that luminance is achieved precisely because light overcomes.
We also experience an amalgamation of emotions every day. The positive, neutral and negative occurs simultaneously or in succession, forming a unique EMOTIONAL ARCHITECTURES. For some, goodness, in thought or action, as optimism or a defense mechanism, is necessary to survive the complexity of our emotional experiences.
MILIEU was a topographical representation of hope. In a world where the environment is being laid to waste daily, there remains hope of restoration and redemption before the environment our species to waste.
IMT: So far, what reactions have you received from the exhibits that you have participated?
Molato: I've received different reactions. Mostly, positive feedbacks (people are polite haha). Some say my work are unique. A lot of people are curious about my process and the inspirations behind my works. I think these are positive signs. (laughs…)
IMT: You are holding your first solo exhibit at Gallery i, are we viewing a distinct set of paintings in 'Placid' from your earlier works?
Molato: My solo show brings a distinct set. But it's somehow connected to my previous exhibit. It's an evolution. My works are still non-representational, still personal, and still uses the same tone of colors, but they're more organized, more focused on a single aspect of a subject, and more minimal in composition.
IMT: Why you have chosen minimalism, why is that?
Molato: I'm inspired by the Japanese way of life. It is being able to live life by engaging only in what is essential, decluttering, and only spending resources on what are necessary. I try to apply the philosophy in my personal life and in the way I created the artworks for this exhibit.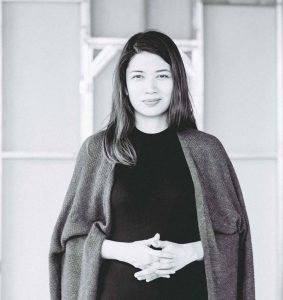 IMT: Mention to us some minimalist artists that you look up to.
Molato: Christian Hetzel, Richard Serra, Frédéric Halbreich, Agnes Martin, Tadao Ando, to name a few.
IMT: You have shared that your art practice goes as far back to childhood. What are your earliest memories?
Molato: My grandmother used to tell me about how I would draw on walls with pencils and crayons as a toddler. As far back as I can remember, I was always filling my own sketchbooks. I reveled on assignments that involved drawing and coloring work.
IMT: Yet you pursued a career in nursing and not fine arts or related discipline, why is that?
Molato: Ahh… the question I frequently encounter (laughs hard…). I blame peer pressure. Everyone in my high school barkada took up nursing. I was also partly convinced by my parents. The trend of taking up nursing course and with nurses going abroad for greener pastures was at its peak during that period.
IMT: You are also well-traveled and went into photography, what were the subjects that you focused on?
Molato: Travel is for the soul and a huge influence on my art. I went into photography after practicing as a nurse for a few years. I worked in a European-owned studio where we usually created documentaries, landscape photography, and a little bit of portraiture.
IMT: Now that you have transformed to becoming a fulltime artist, how's the reception of your family?
Molato: Luckily, after settling back to the Philippines (for now) and shifting careers I haven't heard my family said anything against my decisions or my work. Neither did I heard anything from them when I shifted from being a photographer to being a visual artist. I assume I have their blessing!
IMT: I can imagine the feeling of freedom and independence. How important is freedom to you as an artist?
Molato: In order to fully express oneself, freedom is an essential ingredient for creative work to flourish. Although it can also be said that art and other movements are also created when freedom is suppressed. Like air, it is vital in my creative process.
IMT: You have come a long way in fulfilling your dream, tell us about your feelings having a first solo exhibit?
Molato: I am so stoked about it! It was once a distant dream but it is becoming a reality. It made me more inspired to learn, to observe, to share ideas with other people, and maybe even inspire them to pursue their own artistic dreams.
IMT: What are your thoughts on the burgeoning Iloilo art scene and what contribution we are expecting from you?
Molato: The art scene in Iloilo is a source of pride for all of us living here. The community has done so much for it to reach this point. I think we can expect it to continue flourishing in the future. I'm working, in my own little way, to support and promote our local art scene to more audiences.
Everyone can and should learn about art; everyone should be taught to appreciate it for there is art and beauty in everything.