You will see yourself coming eye-to-eye with the works of intuitive Ilonggo artist Marrz Capanang in an empty, silent, and almost still Gallery i, upon the conclusion of his second solo exhibit Pasisiring.
Standing in front of Pasisiring (En.Trance, 60 x 96 inches, mixed media), the main piece where the show is anchored, brings you on an eye-to-eye contact with the Carabao – the Philippines' water buffalo. Synonymous with farmers and rural communities, Carabaos are fast becoming a rare sight on the countryside as the rural landscape steadily give way to land use conversions and from over-reaching urbanization.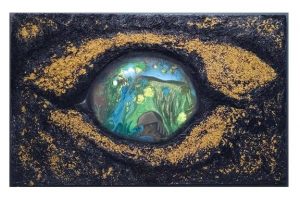 The illustration of the Carabao's eyes in Pasisiring allowed viewers to see two perspectives: the events that shape development surrounding the existence of the Carabaos, on one hand, and a focus on its helplessness to defend itself from the realities that threaten its survival as absorbed and reflected in the eyes of huge animal, on the other.
The main piece brings viewers on the shoes of the artist and his affinity to farming as part of nature having a farmer grandfather. Capanang's presentation linked the relationship of farmers to their carabaos by laying over the bigger role that they play in our society, food security, and survival as human beings.
Pasisiring, a Hiligaynon word for "entranced" can have multiple description and interpretations. Each of the art pieces could be a subject of a lengthy discussion between the artist and a writer, especially that each work represents the eye of a living creature – the carabao, pig, owl, tarsier, monitor lizard and eagle.
The entire set reminds viewers that the "eyes are the window to the soul." What is describes is that the eyes do not only serve as a facility for seeing, but rather it also absorbs images and events, and retains all these in the memory. Hence, the work sparks the process of individual re-realization of the elements that allow one to live a life and its relationship with its surroundings, including the animals or other living creatures.
The theme and the set of Pasisiring materialized from Capanang's direct interaction with his own two-year old pet dog he named Ulan (rain). In one of those playtime moments they shared, he was awestruck upon a glimpse at Ulan's eyes describing it as "vibrant like having a world of their own."
The experience by Capanang with Ulan became a recurring encounter that triggered him to store single eye-to-eye moments with different animal creatures and honor them through Pasisiring. The show is a manifestation of his different interaction with animals and which he embraced as advocacy against animal cruelty.
The intuitive Capanang
This is Capanang's second solo exhibit yet the first in Iloilo. He first presented solo works at Kulay Diwa Contemporary Art Gallery in Paranaque, Manila. But his works has been shown in numerous collaborative exhibits being a member of Himbon, a movement of Ilonggo contemporary artists.
He has a distinct style derived on the process he called as "pangut-angut," an attempt for one idea or feeling to be connected to the other (connectivity or connectedness). His work could be shaped from ideas, feeling or thoughts that are both ephemeral and transcendental to the artist – "two beautiful essences where my art revolves," expressed Capanang.
Ideas and concepts finds Capanang before a single drop of paint or oil ends up on canvas.
Almost always randomly, "ideas and concepts found me when I am aimless; when I am in the middle of an intense moment; or during dream state where vivid images are shaped," expounded Capanang regarding his conceptualization process.
Sometimes ideas and concepts are just spinning on the artist's head, slowly floating, and then waiting for the right moment to be revealed.
"I just know that I am at the right moment to make an art and I start to spill the paint and serendipitously the colors flow and collide and they find their own space on the canvas," shared Capanang.
Capanang recognized that every eye cannot see everything that there is before it. Therefore, Pasisiring urged viewers to indulge deeper into the intricately composed pieces by providing focus on the subject similar to weaving a seamless story from details of interconnected events to arrive at a big picture.
To contain focus on the eyes, Capanang also revealed himself and showed his own development and transformation as an artist who started to draw at the age of 3 to 4 years old until he completed Fine Arts. Each piece offered a gateway for the viewer to enter the artist's soul, enabling one to understand his experience and comprehend the accumulated knowledge that formed the wisdom behind the method and process of his art.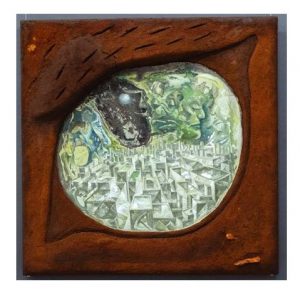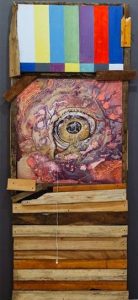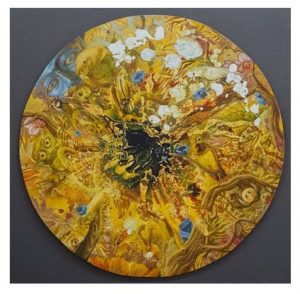 Exquisite art in Hiligaynon
For followers of local arts and artists, Capanang stands out as among the few who consistently used Hiligaynon as title of works.
"Our language is beautiful – the rhythm and the sound – permeates the heart," said Capanang. In the case of Pasisiring, the Hiligaynon title encapsulates the artist's whole essence: his work, process, style and purpose.
The Hiligaynon title offered poetry that reinforces imagination to see through the works and extract messages of contradictions between urbanizations and ecosystems preservation like in "Garhum nga Amat-amat kurta sa Panan-awan" (Shadowed Vision, 48 x 48 inches) or the longest titled: "Suno sa Katigulangan, baliskaron lang ang Panapton para indi Magtalang, pero anhon mo kung pati ang Kalag ginlamon sang Santermo" (According to Legend, reverse thy Clothes and will never get lost, however, it is useless if the soul was already consumed by St. Elmo's Fire, 48 x 48 inches)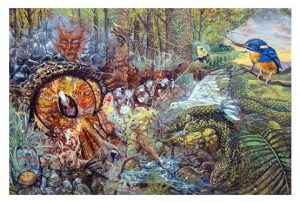 Also thought provoking yet easily relatable among local viewers in spite of its English translations is the title of the work: "Kita" (Us-see-Profit) 102.75 x 39 inches, which follows a multiple meaning especially when used by the Ilonggos in daily conversations like kitá (us, we); "kítà" or nakita (see or have seen); or kita (income or profit). It exemplifies the complexities governing animal malpractices for meat or profit.
All other works evoked stories of their own that deal with misplaced priorities or neglect of nature like "Bulawanon sa Panulukan" (Everything is Golden, 48 x 48 inches); "Kaayo sa gina Huna-huna nga Kalain" (What We Never Imagined, 24 x 24 inches), and "Ang Ginhawa nga Nagtuga" (The Breath of Existence, 24 x 24 inches).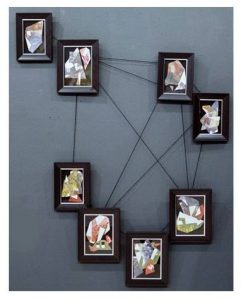 Also dealing with multiple subjects are the works: "Ang Tagumatayon nga Kalayo" (The Fire is Almost Out, 48 x 72 inches) and "Panalaytay" (Chain Reaction, acrylic on paper) comprising of eight small works that illustrate interconnectedness.
Capanang's conceptual installation "Butwa" (Ascend), the jelly-fish shaped work hanged high above the ceiling adds an experiential dimension to the show for it brings all five senses to work together – the eyes can marvel at the lighted elements inside the dome while the ears facilitate imagery of the situational circumstances regarding issues about pollution and the environment.
It appeals to the Filipino's sense of skepticism and acquired attitude of "to see (and hear) is to believe."
Capanang also paid homage to the under-appreciated role of bees in our ecosystem through "Isa ka Gatos nga Kabulakan" (Hundred Flowers, 24 x 24 x 6 inches). The flying insects are instrumental in pollination and honey production in spite of its short lifespan. Yet, the highly chemical-based practices today have altered the natural pollination process and threatened even existence of bees.
Pasisiring is Capanang's call for people to see for themselves the problems gripping the environment and society. It puts across a message that, we, human beings, are very much part of our environment and of the Earth.
"We should pay attention to the details," said Capanang in contemplation of life so that "we will realize how beautiful the world is and start to treasure its diversity."
In Pasisiring, "I discovered my own 'smallness,' if compared to the magnitude of the Earth. But I know I still occupy a place in the ecosystem. This is the reason why I respect other beings that occupy this world with me."
= = = = = =
Credits:
Banner Photo by ATMOS.PH,
Art Photos by Gallery I, ATMOS.PH, writer