The watercolor masterpieces of the multi-awarded Ilonggo artist Alex Ordoyo is among exhibited in Galerie Roberto in the show: "Free Flow". It is curated by artist Erwin Mallari, whose works are also part of the collection being exhibited.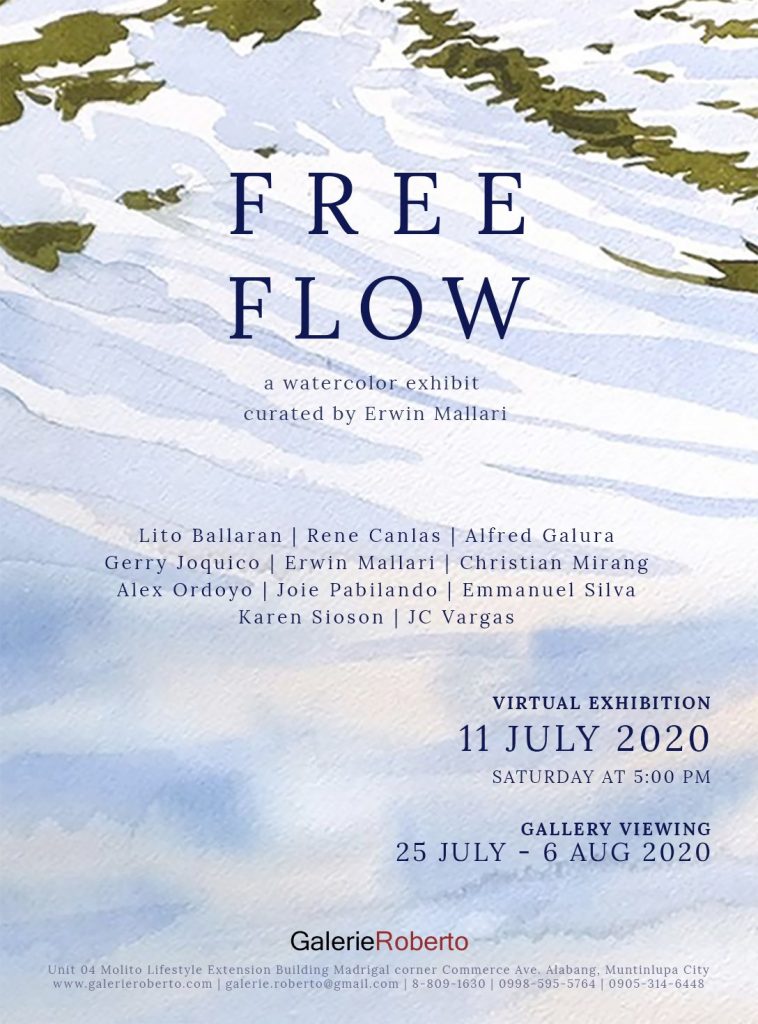 The virtual exhibition was opened last July 11 and gallery viewing will start July 25 and it will run until August 6, 2020. The more than 10-days gallery viewing is intended for scheduled visits considering the safety protocol being implemented by Gallery Roberto.
Free Flow features watercolor works of with artists Lito Ballaran, Rene Canlas, Alfred Galura, Gerry Joquico, Christian Mirang, Joie Pabilando, Emmanuel Silva, Karen Sioson, JC Vargas, curator Erwin Mallari, and Alex Ordoyo, from Santa Barbara town in Iloilo.
3 watercolor pieces are currently on show
The work of Ordoyo has earned him a Grand Prize for Watercolor category in the 2018 Metrobank Art and Design Excellence (MADE). He holds numerous prestigious recognition for his visual arts works.
no images were found
"To paint in watercolor is to maneuver the forces of nature: the cadence of fluid, the fibros
ity of paper, and the pull of gravity," described by Galerie Roberto about Free Flow, and it expressed
Ordoyo's watercolor masterpieces as "evoking the playfulness and innocence in water using children and duck as his subjects."
You may check Alex Ordoyo here: https://www.facebook.com/alex.ordoyo
Free Flow and the Watercolor Collection
Free Flow is narrated in the text written by Mariah Reodica as "the skilled dance between paintbrush and paper can be premeditated and spontaneous at the same time. It's often a meditative process in itself, requiring an attunement to both the pigment and the picture. Each stroke is a gesture of flow and movement, which leaves an imprint of vibrant color that remains even after the paper has dried."
"Many of the artists are nature lovers and travelers," Reodica intoned, "chasing sights and documenting what surrounds them."
Indeed, the collection in Free Flow shares the characteristics of watercolor art which Reodica expounded as something which shows "the reflection of sky on water, and the attention to the minute details" – an artists method "to channel what they see into a diverse range of subjects from scenic landscapes to resplendent portraiture" into their art pieces.
The narrative also attempts to enlighten both the virtual an on gallery audience by underscoring that what makes a watercolor an extraordinary medium by saying: "it's not a secret that many artists consider watercolor one of the hardest mediums to master. It can be unwieldy and relentless like a storm out on an open sea, but in the hands of those who know it by heart, it can be a fountain of expression and joy."
In this in-house and virtual exhibit, Galerie Roberto invites viewers to experience for themselves the paintings that are "windows into serenity and grace," masterpieces that evokes images that are made possible by the the artists' exquisite skill."
In its entirety, "Free Flow" is a "demonstration of mastery over watercolor as a craft, shaped by the ebbs and tides of life."
___________________________________
See the show on gallery by setting an appointment. Below is the following contact details of Galerie Roberto:
Instagram: instagram.com/galerieroberto
Webbsite: www.galerieroberto.com
Facebook: https://www.facebook.com/galerierobertovirtualspace/

?

galerieroberto.adm@gmail.com

?

+63 905 314 6448
Address: Galerie Roberto is located at Unit 4, Molito Lifestyle Extension Bldg., Madrigal Ave. corner Commerce Ave., Alabang, Muntinlupa City.
* Poster, text, and contact details are taken from the Facebook post of Galerie Roberto
** Photos of the artworks were acquired from the artist.