The vaccination drive of the Treñas administration has paid off. The Department of the Interior and Local Government (DILG) recognized the Iloilo City Government for its outstanding performance in Vaccination Certificate as Top Performing Highly Urbanized City for excellent and timely management of vaccination data.
"We are pleased to inform you that the City of Iloilo has been the top performing LGU in Visayas on the implementation and compliance to the requirements of VaxCertPH under the category of Highly Urbanized Cities," DILG Office of the Undersecretary for Plans, Public Affairs, and Communications stated in a letter to Mayor Jerry Treñas.
"The criteria for said ranking were based on the percentage of submitted Linelist data to Department of Information and Communications Technology (DICT), and percentage of number of VaxCertPH requests closed and acted upon," it added.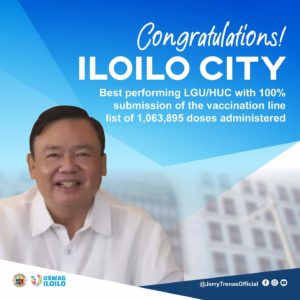 The Vaccination Line List is the primary source of information for the issuance of the Digital Vaccine Certificate which the LGUs have a full responsibility to record the vaccination events and submit to Vaccine Administration System.
The Local Government received a Plaque of Recognition March 22 at the SM Mall of Asia in Pasay City.
In addition, DICT-VI also gave a certificate to the Iloilo City Government as recognition of its achievement of 100 percent vax data submission of 1,063,895 doses administered.
"Our great appreciation to the City of Iloilo for exhausting all efforts to timely upload the vaccination line list," said DICT-VI.
"Daku guid ang akon pagpasalamat sa aton IT Department nga daku ang parte para malab-ot ang 100 percent vaccination line list, kag nakahatag duag sa ciudad," declared Mayor Jerry P. Treñas in response to the awards it received from DILG and DICT-VI.
"This award is dedicated to the programmers, encoders, technical and support staff, volunteers, and all who have been working hard to achieve our city's goal of attaining the 100 percent submission of data to the Vaccine Administration System Line List (VAS-LL)," concluded Treñas.