What country has not been touched by COVID-19? All over the world, nearly every government had
to implement movement restrictions and strict quarantines, and worked with medical, private
humanitarian organizations, communities, among others to respond to the pandemic.
With projects in over 70 countries around the world, Doctors Without Borders / Médecins Sans
Frontières (MSF) opened dedicated COVID-19 projects, while maintaining its essential healthcare
programs. Throughout the pandemic, MSF worked to protect the most vulnerable: the elderly, the
homeless, the refugees, those living with other illnesses such as HIV and tuberculosis. But how is this
pandemic affecting children?
Amid travel restrictions and strict quarantine protocols, many children have stopped going to school,
and have been forced to remain at home. Many children have not been able to play with friends or
visit relatives in months. Playgrounds and pools and parks have been closed.
How can children be made to understand this pandemic, and the measures that must be taken to
remain safe from COVID-19?
Pondering the pandemic with puzzles
On December 12, 2020, MSF is launching What Can You Do About COVID-19?, a children's activity
book. With activities ranging from crossword puzzles and mazes, the activity book helps explain the
newly discovered coronavirus, and how to protect from the disease. The illustrations are in black and
white, so that children can color in all the pages.
The activities in What Can You Do About COVID-19? are designed for children aged five to nine years
old. Children can learn about masks and how to wear them, the tools used by healthcare workers,
and what they can do if they're worried about the pandemic. Parents are encouraged to go through
the book and do the activities with their kids. To help adults talk about the pandemic with children,
What Can You Do About COVID-19? also has a short guide for how to talk about COVID-19.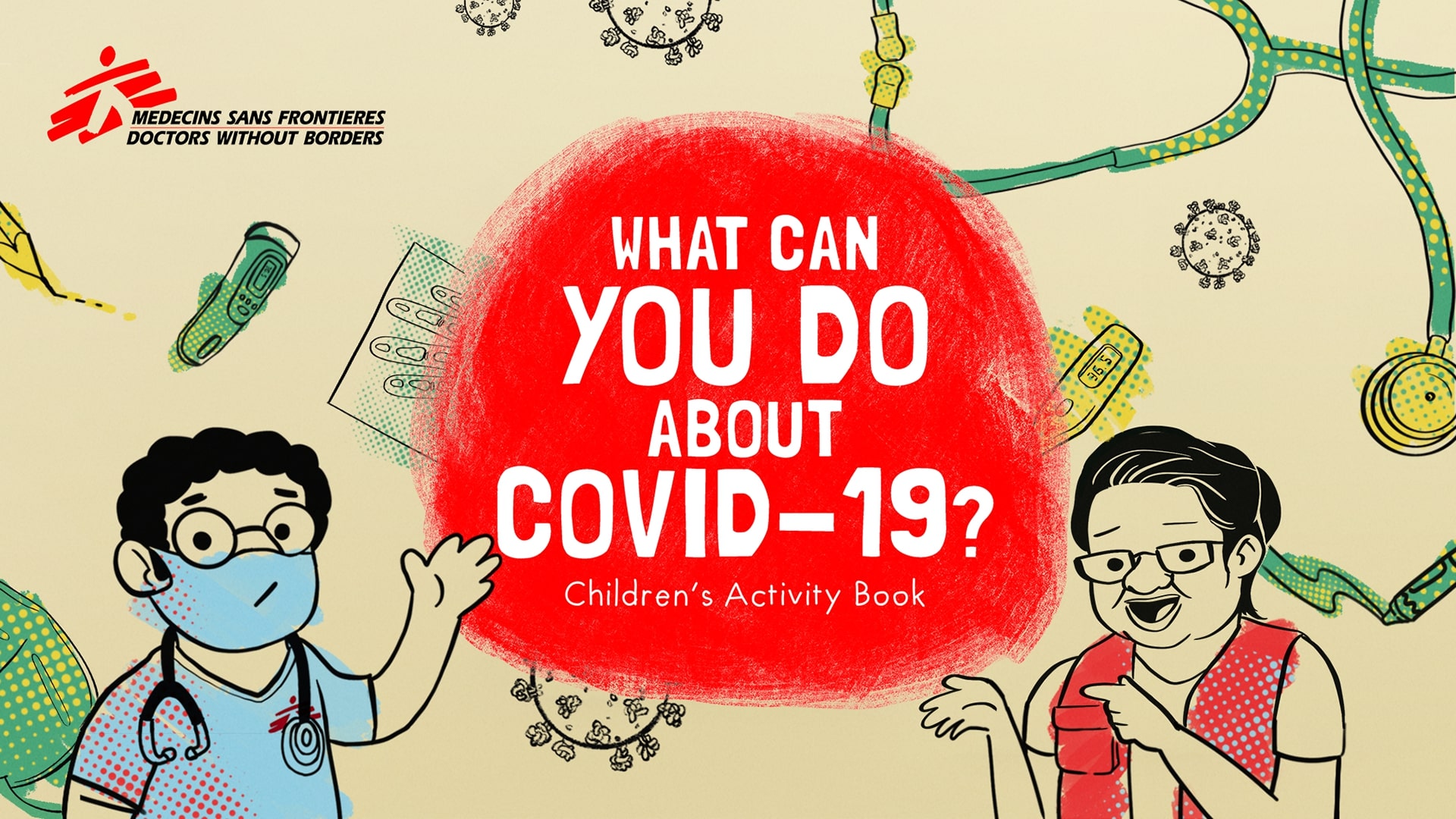 Paul McPhun, South East and East Asia-Pacific (SEEAP) Head of Project, says, "MSF knows very well
that healthcare really starts at home, and helping families take care of each other is just as
important as having access to clinics and hospitals. We hope that this activity book does just that.
We want to help parents and their children help themselves to stay safe and healthy, as we all face
the risks of COVID-19. But we also want the learning process to be fun, so that it is passed on to help
as many people in our communities as possible!"
With translations in Filipino, Bahasa Indonesia and Malay, the activity book will be available for free
download on the MSF Southeast Asia website. Parents can download the activity book and print it at
home.
The launch event on December 12 will also include a panel discussion about the impact of the
pandemic on children's mental health.
Responding to COVID-19 in Southeast Asia
The activity book is just one of the ways MSF is supporting COVID-19 response in the region.
In Indonesia, MSF teams have been conducting workshops, training and health education sessions
related to COVID-19 for community health workers and assisted communities in Banten and Jakarta
provinces. As of October 2020, the MSF team in Banten conducted two training sessions on IPC and
contact tracing. In Jakarta, MSF completed health education sessions and training of trainers
sessions. There is also a psychosocial component focused on healthcare workers.
In Manila, Philippines, the team supports health workers who carry out contact tracing and COVID-
19 prevention activities at community level. In three different health facilities providing care for
COVID-19 patients, the team helps build tents for triage, seeks to improve IPC and provides PPE for
the health workers. Since early July, MSF teams have distributed quarantine kits – including hygiene
materials – to COVID-19 patients and their close contacts. MSF also provided support to the COVID-
19 ward and the hospital laboratory at San Lazaro Hospital. In Marawi, the team monitors COVID-19
surveillance and contact tracing in Marawi City and supports health promotion in one quarantine
facility.
In Penang, Malaysia, MSF is providing COVID-19 health education in different languages, including
Rohingya and Burmese, and translations in hospitals. Based on input from the community, MSF has
started a COVID-19 health promotion campaign with R-vision, an online Rohingya news network. Our
advocacy has focused on a more inclusive COVID-19 response, calling on the government to halt
targeting migrants and refugees in immigration raids, which could risk further spread of COVID-19 in
detention centers.
To learn more about how MSF is responding to COVID-19 around the world, visit msf-
seasia.org/COVID-19.