Coca-Cola and Pure Oceans, a marine social enterprise, joined hands to create waste management solutions in Tingloy, Batangas.
The effort is in line with sustainability, a core of Coca-Cola's way of doing business. From supporting women entrepreneurs to its many recycling and packaging collection programs — Coca-Cola has been at the forefront of industry initiatives towards inclusive, sustainable solutions in the Philippines. Together with Coca-Cola Foundation Philippines, the social development arm of Coca-Cola in the country, the company has forged longstanding partnerships through the years to help contribute local solutions to strengthen community efforts on solid waste management.
The collaboration between Coca-Cola Foundation Philippines and Pure Oceans aims to train and empower communities and their women leaders to create waste management solutions that have a lasting impact.
Pure Oceans is composed of changemaker women led by founder, Pia Roxas-Ocampo, an advertising consultant by profession, and a scuba diver and marine advocate at heart. The organization works with coastal communities to achieve sustainable solutions against plastic litter, with its flagship project in the Philippines, Linis Islas, running in Tingloy, Batangas.
Also check out: Coca-Cola, Eco Rangers improving communities with Blastik Project
Linis Islas is an advocacy program that has given women the power to lead and transform their communities by educating more people, especially in litter-vulnerable islands. It also established buying programs at Barangay Santo Tomas in Tingloy and Barangay San Teodoro in Mabini, Batangas to encourage communities to source clean and segregated plastics from coastal island communities for recycling or upcycling.
Tingloy, a fifth-class municipality comprising Maricaban and Caban Islands and other small islets in Batangas with a total population of less than 20,000, remains geographically isolated and at risk of solid waste accumulation and pollution; the island faces daily logistics and transport challenges in its solid waste management system.
As of Q1 this year, the Pure Oceans project has diverted 29,585 kg of plastic waste from oceans, including film and multilayer plastics, and types 1 to 6 plastics; established three materials recovery facilities; and provided solid waste management design training to 170 participants—80 percent of whom are women—in 15 barangays.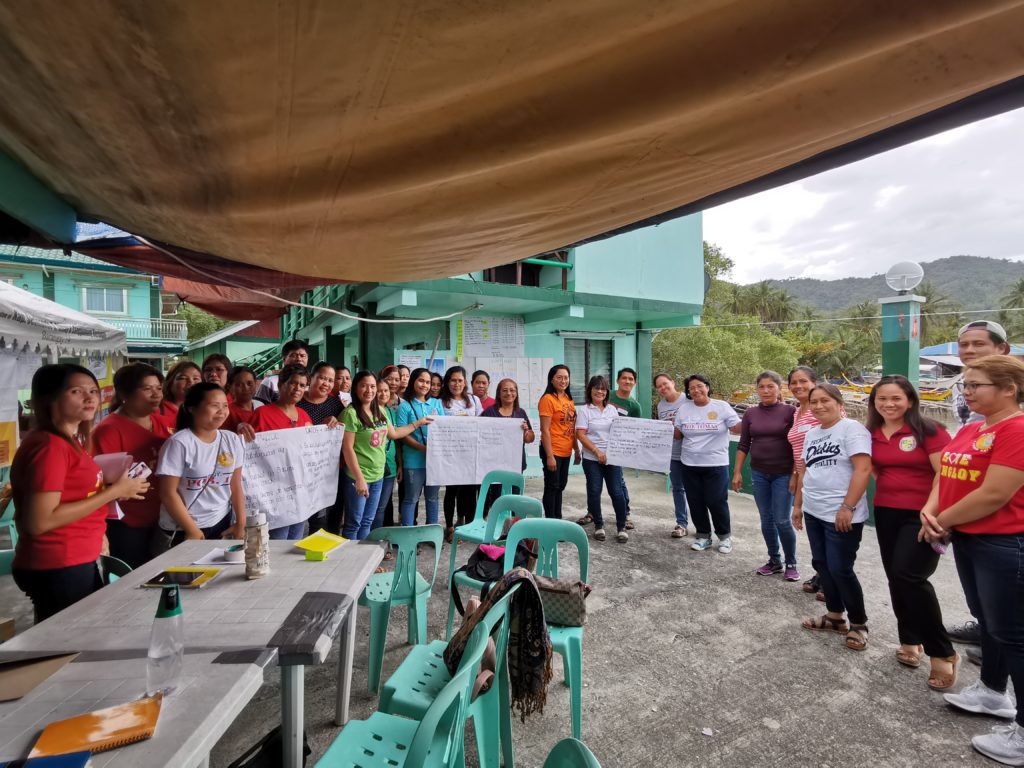 Despite the grave impact of the pandemic on various sectors, the project was able to provide livelihood opportunities to women by funding their communities and encouraging them to segregate waste, recycle and earn extra income for every bottle recovered in their household. In Q1 of 2021 alone, Pure Oceans was able to provide a Php 26,000 monthly income to 11 plastic buying program staff, mostly composed of women, while beneficiaries were able to recover 32 tons of plastic waste—equivalent to at least Php 156,852—from the ocean since 2018.
"I've been scuba diving since 2006 and I've seen how much the sea has changed in less than two decades. It is disheartening for me to see the reefs being destroyed by plastics that come from tributaries or communities. There is a need to convince people that their waste is their responsibility. If one must use plastic, our waste management system is in such a state that we ourselves need to make sure our plastic waste gets diverted from their current, default endpoint—the reefs and seas," shares Ocampo.
"We are grateful to Coca-Cola Philippines for ensuring the recyclability of their packaging and increasing recycling capacity in the Philippines with their upcoming bottle-to-bottle recycling facility. Apart from that, we appreciate that they are helping us on the other end of the plastic lifecycle—increasing collection rates where the waste is most threatening to community livelihood and health, while also helping communities earn extra from those collection activities, too. With their assistance, we were able to begin and expand our work in 15 barangays within Maricaban Island,'' Ocampo adds.
Women as pillars of change
The partnership between Coca-Cola Foundation and Pure Oceans is leading the charge toward better waste management in local communities.
With the objective to collect at least 2,700kg of plastics per month and reach at least 2,120 beneficiaries, it has opened an opportunity to women of Tingloy to have another source of income while staying at home and taking care of their children.
"Our mission at Coca-Cola Foundation Philippines has always been to deliver happiness, refresh communities, and help improve the lives of people. Our partnership with Pure Oceans enables women and waste pickers of Tingloy to receive training and education on waste management. Our milestone of collecting 29,585 kg of plastic waste is just a start. We believe in collective action toward a common goal. And we look forward to working with more equally-passionate organizations who can help us in shaping a better future for the people in the communities that we are part of," says Cecile Alcantara, President of Coca-Cola Foundation Philippines.
See: Coca-Cola Going Beyond Good
In 2018, Coca-Cola announced an ambitious goal to collect and recycle the equivalent of every bottle and can it sells globally by 2030. Coca-Cola Philippines has made progress on its World Without Waste roadmap over the past three years and is steadfast on doing more to make this vision come to life.
"We recognise the urgency of the growing plastic waste problem and we are determined to be part of the solution. We will continue to forge partnerships with like-minded organizations, industries, consumers, and local government units to support the transition to a closed loop economy and tackle marine pollution. This will help create a cleaner and more sustainable environment and uplift lives in underserved communities through income-generating programs that help reduce waste," says Tony Del Rosario, Coca-Cola Philippines President and VP for Franchise Operations for the ASEAN and South Pacific Unit-East Asia Region.
To learn more about the sustainability programs of Coca-Cola, visit: https://www.coca-colacompany.com/sustainable-business/packaging-sustainability.