Coca-Cola Philippines accelerates community water programs with long-standing partners to help improve community access to clean, safe water  
Insufficient access to water, sanitation and hygiene (WASH) infrastructure and poor water quality are key challenges faced in water-stressed communities of the Philippines. COVID-19 has exacerbated stresses on water systems, highlighting the importance of WASH to enable communities to protect themselves.  
Over more than a decade, Coca-Cola Philippines has established strong corporate leadership in community water programs through its support to Coca-Cola Foundation Philippines, its social investment arm, and many non-profits and government partners. Supporting community access to clean, safe water remains a priority for the Coca-Cola system in the Philippines and Coca-Cola also continues to support healthy watersheds and increase water use efficiency in the production of its beverages. 
"Coca-Cola has supported local community water programs in the Philippines for well over a decade, and we're committed to doing more," said Tony del Rosario, Coca-Cola Philippines President.  
Coca-Cola Philippines marked this year's World Water Week by strengthening its commitment to support water conservation and preservation. Some of the company's milestones on this journey are showcased in this video. Globally, Coca-Cola has given back every drop of water we use in our drinks and continues to help provide safe and clean water access to underserved communities in the Philippines and other countries around the world. Coca-Cola has also pledged to continue to ensure a sustainable supply of water by helping reduce water challenges, develop community water resilience, and improve the health of priority watersheds. 
Installation of handwashing stations and water connections during COVID-19  
In response to the increasing need for safe water access due to the COVID-19 pandemic, Coca-Cola Beverages Philippines Inc. (CCBPI)—the company's bottling arm in the Philippines—and Coca-Cola Foundation Philippines Inc. pledged in November 2020 to install 37 handwashing stations across the country. Phase 1 of the project is now complete, with 14 handwashing stations built in high-traffic locations such as public markets and terminals, in major localities nationwide. Phase 2 is slated for completion in the coming months.  
"At CCBPI, we continue to support the development of resilient communities, and this involves ensuring that communities in need have access to clean, safe water, especially at such a crucial time," said Gareth McGeown, President and CEO of CCBPI. "This is part of our commitment to Filipinos and through collective action, we are able to truly refresh the world and make a difference."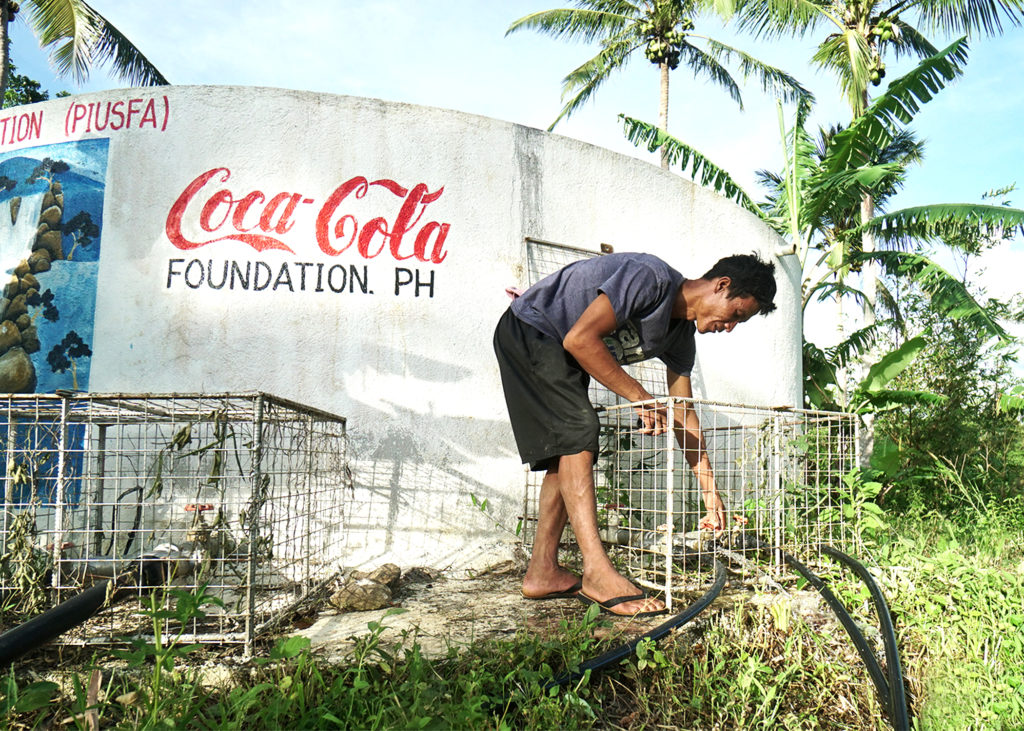 CCBPI was also recognized for its industry-leading water management practices during the first Europa 2021 awards, where it was awarded best in Water Resource Management by the European Chamber of Commerce of the Philippines (ECCP). 
The citation covers CCBPI's intensive and comprehensive water efficiency programs and initiatives, such as smart design for optimal bottle washing, reducing unnecessary backwashing, recovering and reusing water for maintenance tasks, and its use of advanced technologies. 
Empowering communities with Agos 
Through Coca-Cola Foundation Philippines Inc., Coca-Cola is also giving back to communities, especially those in water-scarce areas. The Foundation's long-standing Agos program provides water-stressed communities with access to water, supports watersheds, and educates Filipinos on the importance of conservation in order to ensure that water continues to flow. 
"The Filipino word agos means 'flow,' and it illustrates very well our commitment to water stewardship. Through our partnerships with non-government organizations and local government units, we shall continue to build water security to ensure the flow of water in local communities," said Cecile Alcantara, President of Coca-Cola Foundation Philippines Inc. 
Previously: Coca-Cola 4th Reimagine Recycling team up with Save Philippines Seas
Coca-Cola Foundation Philippines Inc's Agos community water programs have helped over several hundred thousand people across hundreds of communities gain access to water not only for domestic use, but for productive purposes as well, such as for agricultural use and sustaining livestock. In Negros Occidental, for example, farmers like Ubaldo Ceralbo depend on the constant flow of water to ensure the growth of their produce and sustain their livestock. 
"Because of Coca-Cola Foundation Philippines, we now have enough supply of water for our farm, and we don't experience difficulty in fulfilling our tasks for agriculture," shared by the Ceralbo, president of the Pandanon Integrated Upland Small Farmers Association. "They not only gave us a project; they also gave us inspiration to continue farming. Their help will support our families for a long time." 
Inclusive water security framework, watershed rehabilitation 
According to USAID, watersheds in Bago are subject to challenges that threaten their rich resources and ecosystem, including water supply. To address this, USAID, Multi-Sectoral Alliance for Development Negros (MUAD-Negros) and Coca-Cola Foundation Philippines Inc are collaborating on P4WatER (Partnership for Water and Economic Resilience), a four-year project that aims to provide safe water access to underserved communities in Negros Occidental through watershed conservation initiatives and empowering small farmers in the community. 
Since its first year of implementation in 2021, the P4WatER project has proven to be a successful model of an integrated and inclusive water security framework in action. Upland farmers have benefited from training courses on nursery establishment and propagation; several community green farms and nurseries have been built for vegetables, fruits and trees; generating savings for farmers, and increasing women's participation."
In 2016, Coca-Cola Foundation Philippines Inc began working with the World Wide Fund for Nature Philippines (WWF-Philippines) to rehabilitate Ipo Watershed in Bulacan province, the main source of water for the majority of the National Capital Region and adjacent provinces. 
The five-year partnership helped to conserve a large proportion of the Sapang Munti Micro Watershed, saving hundreds of millions of liters of water annually and ensuring that residents will have a more sustainable water supply. 
Coca-Cola Foundation Philippines Inc also partnered with WWF Philippines in March to launch Daloy: Reimagining Tigum-Aganan Watershed, an 18-month program that will assess the water system of the Tigum and Aganan rivers. This will help achieve a sustainable water future for communities in Iloilo City and surrounding provinces. 
"Water is a precious resource that is vital for each and every community," stressed Del Rosario. "We will continue to collaborate with organizations and agencies such as USAID that share the same goal of protecting, conserving and rehabilitating watersheds. This is important work as watersheds supply water for drinking, agriculture and manufacturing, provide habitat for plants and animals, and offer opportunities for recreation".