The Coca-Cola Foundation has donated P20 million to the Philippine Red Cross for vaccine distribution as it continues to support communities and the country's economic recovery
The Coca-Cola Foundation (global) is donating US$400,000 (PhP 20 million) to Philippine Red Cross (PRC) to help expedite vaccine distribution around the country. The grant is part of a US$20 million total global fund to support nonprofit partners working to stop the spread of COVID-19 through vaccine distribution, personal protective equipment, and public awareness efforts.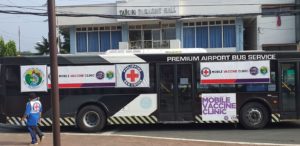 Through the grant, PRC will support the Department of Health (DOH) in the national COVID-19 vaccination program by establishing PRC-operated Bakuna Centers, supporting local government unit-operated centers with manpower, and deploying the PRC COVID-19 Mobile Vaccine Clinics to over 30 priority areas in Metro Manila, Central Luzon, and Calabarzon. The program aims to fully vaccinate over 40,000 vulnerable Filipinos by mobilizing 200 health care professionals.
Also supporting the well-being of Filipinos during the pandemic, The Coca-Cola Foundation Philippines has been providing PPEs as well as food and beverages to vulnerable communities significantly affected by the pandemic.
The foundation's latest initiative in partnership with K-Coop and Philippine Business for Social Progress (PBSP), Project Karinderya, has fed over 1,000 families since the start of the year while helping revive small eateries.
"The COVID-19 pandemic has and is continuing to affect every Filipino, which is why it's important that we provide continuous support to communities through relevant programs that help with their immediate needs.
Since last year, we have not wavered in our commitment to be there for the people we serve, and we'll continue to be here to support where we can," said Antonio "Tony" del Rosario, Coca-Cola Philippines President and Vice President for Franchise Operations of Coca-Cola ASEAN and South Pacific-East Asia Region (Vietnam, Cambodia, Philippines).
Since the country was placed in lockdown on March 2020, Coca-Cola took to action by placing on hold and reallocating their advertising budget for relief and response efforts. Despite the pandemic, Coca-Cola Philippines continues to support livelihood and financial assistance to Filipino communities through multi-stakeholder partnership initiatives.
Among these are the ReSTART program, in partnership with DTI and TESDA, which provided a P184-million bridge loan fund for sari-sari and carinderia store owners.
The company also partnered with OWWA for the OFW Rise Program. The partnership is targeting 10,000 returning OFWs to start their own businesses through livelihood and entrepreneurial programs, including the opportunity to become distributors, wholesalers, or community resellers for Coca-Cola Beverages Philippines Inc. (CCBPI), the bottling partner of Coca-Cola.
"Our goal is to provide pandemic-stricken Filipinos with income-generating and livelihood opportunities so they can continue to provide for their families and have enough for their daily needs, as we all work together to help revive the Philippine economy," said Gareth McGeown, CCBPI President and CEO.
Aside from the ongoing support to communities and other recovery programs, Coca-Cola still has its people at the heart of their business and their safety continues to be a priority. The company has procured vaccines for all employees who wish to be vaccinated.
About The Coca-Cola Foundation
The Coca-Cola Foundation is the global philanthropic arm of The Coca-Cola Company. Since its inception in 1984, the Foundation has awarded more than $1 billion in grants to support sustainable community initiatives around the world. For more information about The Coca-Cola Foundation, please visit www.coca-colacompany.com/our-company/the-coca-cola-foundation.
About Coca-Cola Philippines
Coca-Cola has been refreshing Filipinos and making a difference in the Philippines for 109 years. The Philippines was Coca-Cola's first market in Asia to begin local bottling operations.
Today, the Coca-Cola system in the Philippines has evolved into a total beverage company, offering a diverse portfolio of brands in its beverage portfolio and employing over 15,000 Filipinos in over 19 manufacturing facilities and more than 60 distribution centers nationwide. As part of its long-standing commitment to the country, Coca-Cola continues to #GOBEYONDGOOD as a business by continuously supporting safe water access programs in over 250 communities, empowering around 250,000 women entrepreneurs through training and peer mentoring, and accelerating packaging collection and recycling under its global World Without Waste initiative.