The Alpha Team Organization-ClimatEducate Project, a Philippines-based non-profit youth organization has announced the CALL FOR APPLICATION for its 2020 opening of project memberships starting this January.
Take note of these dates interested applicants:
Deadline of Application: January 25, 2020 | 23:59 (Your Local Time)
Notification of Qualified Applicants for Interview (via email): January 26-28, 2020
Interview of Applicants: January 30, 2020
Announcement of Accepted Project Members: January 31, 2020
Submit an application through this link: https://forms.gle/XZmhQWMKz2bCSKU37
Apply before 25 January 2020 | 23:59 (Your Local Time)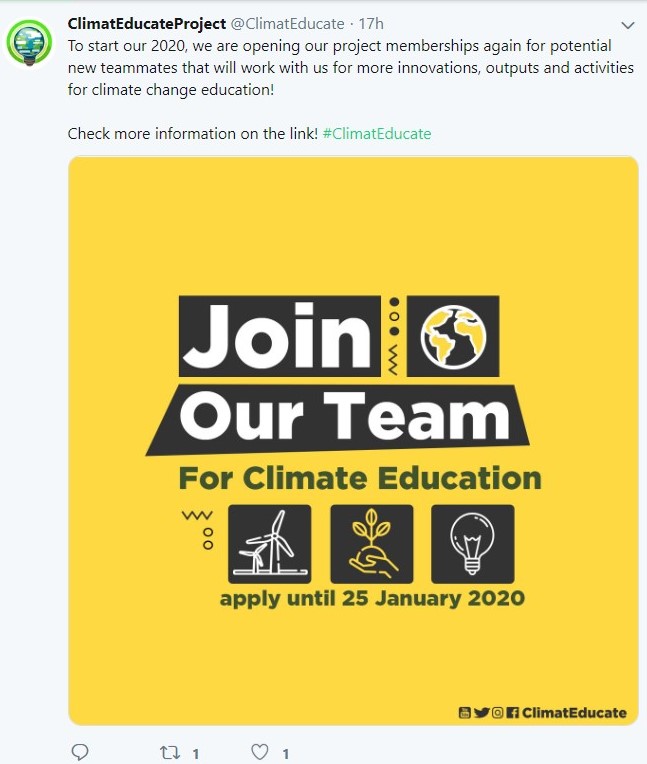 About the ClimatEducate Project
The ClimatEducate Project is a climate change education project of the Alpha Team Organization-ATO, a Philippines-based non-profit youth organization.

The project is a climate leadership initiative by ATO members who were trained by former US Vice-President and Nobel Peace Prize Laureate Al Gore in Manila, Philippines in April 2016.
Since 2016, the ATO members have initiated school outreach (termed non-online initiatives or NOIs) and they promoted climate change education using vector graphics posts method on social media platforms like Facebook, Instagram, and Twitter.

As of December 2019, most of its project members originated from developing countries and they have undertaken a total of 32 initiatives in 12 countries. They were also engaged in international environmental conferences, such as; the United Nations Framework Convention on Climate Change (UNFCCC), regional to national climate conferences, and they have been featured in online and local media in Brazil and in the Philippines.

ClimatEducate Project is divided into four regions that is defined as a "regional hub" to ease coordination and contextualization of campaigns. Among the regional hubs are Africa, South Asia, South America, and a combination of Southeast Asia, East Asia, and the Pacific (EASEAP).

The current focus of the project is to further create innovations and sustained outputs for climate change education (CCE). The direction is grounded on the belief that improvement is attainable if open-minded and flexible climate advocates and educators will join and work together with a highly-diverse and objective-based project team.
The new project members will undergo mentoring and training for three (3) months through online peer mentorship, output assignment, and outreach experience.

Learn more about ClimatEducate Project
You may find inspiration by viewing photos of its previous initiatives: http://bit.ly/2vt3lR5 or You may also check our portfolio here: http://bit.ly/2DBPI0S
You can also inquire by sending an email. Follow the instruction: climateducate@gmail.com [SUBJECT: Inquiry].
Application requirements and membership:
The project team has opened a total of 30 membership slots for this year's applicants coming from these locations:
1. Project Members for Africa
2. Project Members for East Asia, Southeast Asia, and the Pacific/Oceania
3. Project Members for South Asia
4. Project Members for South America (América do Sul)
Applicants from the other regions are also welcome to apply.

The content that you need to supply when applying:
I. Personal Information
II. Contact Information
III. Previous Employment/Volunteer Work/Skills
IV. Statement/Questions
Qualifications needed:
• He/She must be under 35 years old.
• Must be a high school, an undergraduate, graduate school student or a young professional.
• Applicant is from Africa, East Asia, Southeast Asia, Pacific/Oceania,
South Asia or South America (América do Sul).
• Must indicate serious interest and commitment in climate activism and in education
• Must have basic knowledge of climate change and its processes
• Must be able to read, write and communicate in English
• Knowledge of French, Arabic or Portuguese is an advantage.
• Must be proficient in using social media and other online platforms.
• Knowledge of teaching CCE (Climate Change Education) is an advantage.
• Previously demonstrated leadership through academic or volunteer work, particularly related to
climate change action.
• Be willing to actively participate in collaborative online work and must be open to communication
with fellow members.
• Priority will be given to applicants with lesser attachments in other organizations and can focus to
work with the project team.
Confidentiality of application:
Upon submission, all the applicant's information are subject to strict confidentiality and it will be accessed only by the members of the ATO-ClimatEducate Project Screening Committee. The Committee shall ensure a fair screening process and shall not discriminate based on race, color, sex, age, nationality, sexual orientation, civil status and physical disabilities.