World Without Waste is closing the loop on recyclable plastic packaging in the Philippines.
Coca-Cola Philippines today shared three-year progress of their 'World Without Waste' program at an online event for media and stakeholders, including the latest details around their efforts to drive a circular economy in the Philippines and an update on PETValue Philippines, their pioneering bottle-to-bottle plastic recycling facility set to open in early 2022.
In 2018, The Coca-Cola Company pledged robust 'World Without Waste' global goals to help collect and recycle the equivalent of a bottle or can for every one the company sells by 2030; to make 100% of its packaging recyclable by 2025; and to use at least 50% recycled material in its packaging by 2030. In the Philippines, the company and its local bottling partner Coca-Cola Beverages Philippines, Inc. are strongly committed to these goals.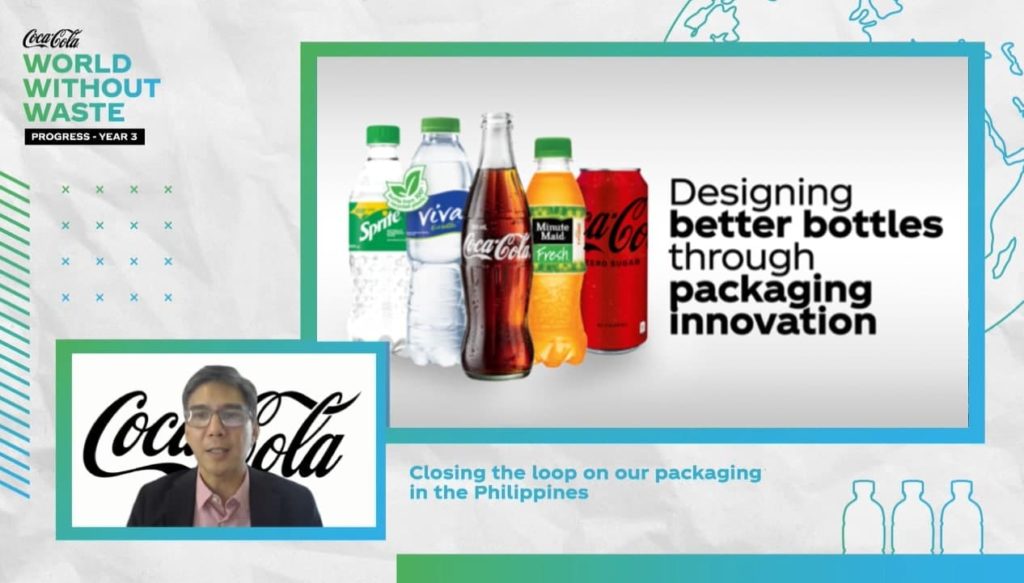 "When we shared our World Without Waste roadmap for the Philippines three years ago, we recognized at that time that it was an ambitious goal. But, together with fellow businesses, recyclers, government agencies, NGOs and community organizations in the Philippines, we have made progress. There's still a lot more to do and we are energized by the prospect of creating a circular economy for recyclable PET plastic here in the Philippines," said Tony del Rosario, Coca-Cola Philippines president, and VP for franchise operations for Coca-Cola ASEAN & South Pacific – East Region.
Read: Coca-Cola, Eco Rangers improving communities with Blastik Project
Over the last three years, the company has rolled out packaging innovations and partnerships in the Philippines towards the global World Without Waste goals including:
Launching the first beverage brand in the Philippines to be made from 100% recycled plastic – with Viva! Mineralized Water followed by Sprite 500ml plastic bottles also made from 100% recycled plastic.

Changing their iconic Sprite bottles in the Philippines and other parts of the world from green to clear plastic to make the bottles easier to recycle into something new.​ Clear plastic bottles are more likely to be collected and recycled compared to colored plastic bottles.

Supporting packaging collection initiatives and working together with other industry partners, recyclers, government agencies and NGOs to accelerate a closed loop economy in the Philippines. This includes investing in the largest, state-of-the-art bottle-to-bottle recycling facility in the Philippines, allowing recyclable plastic bottles to be used again and again.

Launching more than 40 grassroots partnerships to support the 'informal collection' sector, helping to improve working conditions, health and safety, job stability and income. With support from the Coca-Cola Foundation in the Philippines, these programs are now operational across 36 cities and municipalities.
Today, Coca-Cola announced milestones and upcoming initiatives in the Philippines as it continues with its World Without Waste journey. The company has pledged to use more recycled content in its line-up in the Philippines starting 2022 and beyond, as it expands the number of products that use 100% recycled PET in its packaging.  By next year, the company will also be phasing out the use of unrecyclable sachets from its packaging portfolio in the Philippines. The company is also introducing paper straws for its juice and dairy products. With these decisions, the company will be fast-tracking the achievement of its commitment to make 100% of its packaging recyclable by 2025. Today, all the company's bottles and cans are recyclable by design, on top of how Coca-Cola's business in the country remains to be in refillable glass bottles.
The company has also been light weighting its recyclable (PET) plastic packaging, which has resulted in the removal of approximately 10,000MT of new or virgin plastic materials from its packaging. To mention a few examples, its packaging for single-serve (500ml and 330ml) Wilkins and Viva! is now approximately 20-25% lighter, while its 500ml bottle for carbonated drinks is now approximately 23% lighter.
Coca-Cola's goal is to create closed loop systems, extracting the maximum value from packaging materials and products while in use, then preventing them from becoming waste through recovery, recycling and reuse– ultimately, aiming for every package the company sells to be recycled and reused.
In order to remind consumers to help recycle the bottle after they have enjoyed the drink, Coca-Cola Philippines is launching this month a prominent 'Recycle Me' message on its package labels across all its brands and products.
Coca-Cola also announced today that PETValue Philippines—the country's first food grade bottle-to-bottle recycling facility—is set to be operational in the first quarter of 2022. The 2.28-billion-peso multi-phased joint venture investment between Coca-Cola Beverages Philippines Inc (CCBPI) and Indorama Ventures—a global leader in green technology and packaging solutions— will significantly expand domestic recycling capabilities and accelerate the development of a circular economy for recyclable PET plastic bottles in the Philippines. The facility's operations will also generate around 200 direct jobs for Filipinos.
In 2020, the Philippine Board of Investments (BOI), an attached agency of the Department of Trade and Industry, granted "Pioneer Technology Status" to PETValue for its 8-step green technology process for post-consumer PET plastic bottles. This is the safest and most advanced recycling technologies for recyclable plastic (PET) bottles; the process includes flaking, washing, extruding, and pelletizing, and solid state polycondensation or super-cleaning and decontamination. The BOI grants the pioneer status to programs or projects that involve manufacturing or processing activities that have not been done in the Philippines on a commercial scale or use a system that transforms raw materials through new technologies.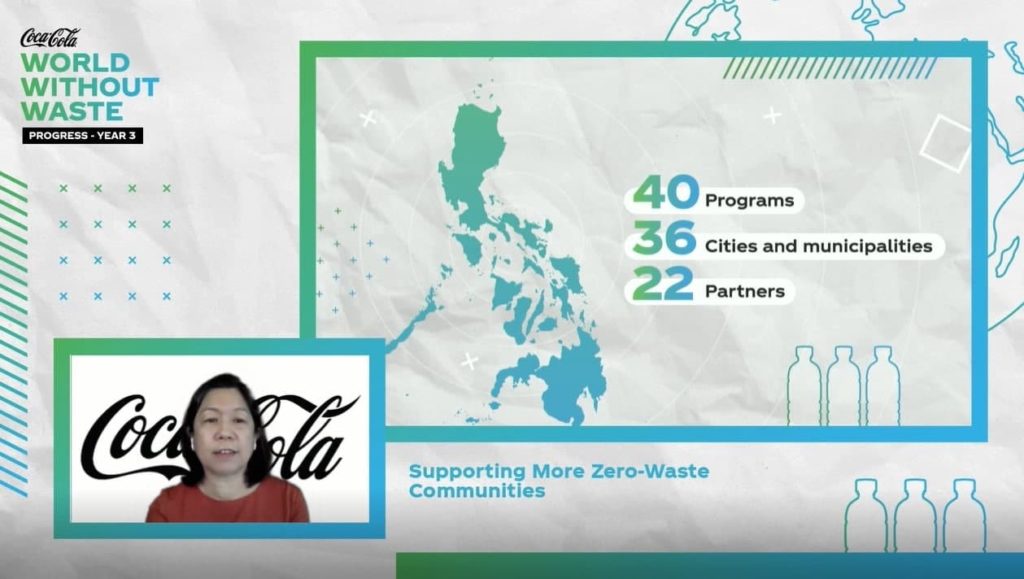 PETValue's projected capacity is approximately 30,000 MT of post-consumer PET plastic bottles, equivalent to around 2 billion pieces of plastic bottles.
"Sustainability is not merely a buzzword for us, it is the way we do business and is manifested across our operations— from water use to energy consumption, packaging innovation, fleet management, and even our coolers in the market. Every step of the process of producing Coca-Cola products, and in their post-consumption processing, is made with the highest standards in mind," says Gareth McGeown, CEO and President of CCBPI.

Also read: Coca-Cola Water Strategy 2030 supports access to clean water
McGeown adds, "Despite the challenges of the pandemic, we did not lose sight of our environmental targets and our commitment to making impactful investments. We are very excited about PETValue and how it will positively influence and affect the country—from making sure that our packaging doesn't end up as waste, to the jobs it will generate for Filipinos. We are certain that its effect will contribute to both the economic recovery of the Philippines and its goals for responsible environmental stewardship."
Senator Cynthia Villar, Chairperson of the Senate Committee for Environment and Natural Resources, in a video message shares her thoughts on the three-year progress that the beverage company has made towards its vision of a litter-free Philippines. "I recall I attended its in July 2019 where the company declared its commitment to be a responsible steward of its packaging from design, collection to recycling, and its brave vision of collecting and recycling the equivalent of every bottle or can it will sell around 10 years' time," says Sen. Villar. "Coca-Cola's initiative under its World Without Waste program are clearly within the spirit of the Extended Producers Responsibility bill. I hope Coca-Cola, true to its stature as one of the world's iconic brand, will likewise serve as a genuine icon of an ideal extended producers responsibility practitioner that either manufacturing enterprises could emulate," she further added.
Coca-Cola also said it would be supporting more zero-waste communities in the Philippines​ as it continues to focus on capacity building for the informal sector. The company will support the development of a vocational training toolkit and program for waste collectors in 2022 and will pilot recycling awareness programs through micro retailers and sari-sari store owners at the barangay level. 
Meanwhile, Coca-Cola Foundation Philippines, its social investment arm, will continue to replicate best practices, scale up working models, and develop high-potential communities with waste management solutions that will demonstrate circularity and sustainable, positive behavior change.
"Our projects in partnership with local government units and different organizations have begun to change lives and ways of living at the community level. The Coca-Cola Foundation Philippines remains committed to help and empower local communities as we continue to make a difference together, one bottle at a time," shares Cecile Alcantara, President of Coca-Cola Foundation Philippines.
The challenge of packaging waste and plastic pollution is large, but it is not insurmountable according to the beverage company. "This is a moment for all of us to accelerate the work, the progress and the partnership towards a circular economy in the Philippines. And we at Coca-Cola are fiercely committed to do just this," del Rosario concludes.