Esteemed female Ilonggo artist Rose Rubinos Jabadan will show her works in Kulay Babae – a benefit show for JCI Metro Iloilo Dinagyang's Pinay Power Week. It will open 6:00 P.M., January 24, 2020 at Sam's Ballroom of District 21 Hotel.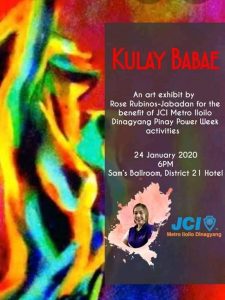 The show is in time for the 57th Dinagyang Festival, an annual religious festival held in Iloilo City every third week of January. The festival is honored by a namesake as one of the registered chapter of a Junior Chamber International in the Philippines – JCI Metro Iloilo Dinagyang.
Jabadan held her first solo show, entitled: "Surreal Rebirth" at the Book Latte Alternative Art Space in 2018. In 2019, she held a duo show with another female artist Dorita Faith Conlu Rubinos in "Rediscover" at the Festive Walk Mall of the Megaworld Iloilo.
Her works has been presented in numerous collaborative art shows in Iloilo. You can check or follow her on Facebook.
*Featured image is a 2019 Oil Painting (36" x 24") titled: "Hala Bira" shared by the artist on her Facebook and lifted by the writer for this news material.