The recent works of Leoniel Sabrec and Jzy Tilos exhibited at Museo Iloilo is definitely not for the faint-hearted. The rendition is like a heavy rock or even metal music – dominantly dark hued, highlighted by rich colors, yet the subject heavy for the mind to break down at a glance.
It is the first solo exhibit by Tilos while the second time for Sabrec. The two are better off on a back-to-back show for both of them are known to illustrate subject matters through social realism or surrealism art pieces.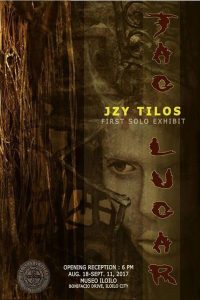 Jzy Tilos' collection is entitled: "Tag-lugar" – Hiligaynon word which means native inhabitant or unseen inhabitant when described with superstition or mysticism in mind. Leoniel Sabrec's collection, on the other hand, is entitled: "Indakal" also a Hiligaynon word which is "boiling hot" in English.
Both collections were opened last August 11, 2017 at the Museo Iloilo and will be on show until September 11.
Tag-lugar
Tag-lugar depicts the over-all theme of Jzy Tilos works which emphasizes the belief that an unseen mystical creature inhabits a place or owns a locality. This traditional belief remains a prevailing practice especially in rural and isolated places and for those who either have seen these creatures or was forewarned by community elders who handed over these knowledge and beliefs.
Tilos arranged a story depicted from the scenes and experiences that he had gathered from his home and locality in "Sinarayu" (way of life) – an eight piece 3×4 ft. acrylic on canvass.
The centerpiece is an 8×12 ft. acrylic on canvas titled: "Kuyang" – an act or practice of offering to the unseen creatures of the place either as a show of respect or to express gratitude for the blessings and protection from disturbances.
Indakal
The collection of Leoniel Sabrec is characterized by hearts with the subject narrated in a manner that gradually stepping deeper to the core to describe different emotions of love, courage and motivations as illustrated in metaphors.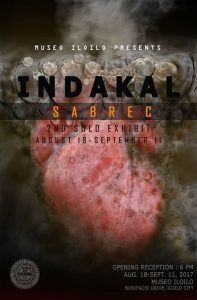 Sabrec's subject is dominated by the heart using it as the central organ that maintains human life. The main piece of the collection is the 8×6 ft. oil in canvass titled "Fighting Spirit" and which he used the heart as a sustaining element of life with flowers for good times, barb wires for troubles, and pulsating veins to portray its continuous beating.
His canvass provides the context by which Sabrec collectively form its message ranging from what affects him, his realizations and personal longings. The seriousness of the subject that he tackles makes the set personal and least amusing to interpret. It disturbs the mind and pushes it to think deeper into self.
Sabrec's works engages the soul with reflections of human expressions from the heart like virtues of compassion, purity, spirituality and wisdom as rendered in a set of four 2×2 ft. oil on canvass.
The "inner beast" of the heart is recognized by the artist as he devoted a set of three 2×2 ft. oil on canvass.
Both the Indakal and Tag-lugar collections presents the more personal side of Sabrec and Tilos but in works that is more creative, furious, bolder, and confident. (Archived – August 26, 2017)