Filipinos, in general, and Ilonggos, in particular, are not tea lovers and so an afternoon tea at the Granary of Richmonde Hotel Iloilo is definitely something unusual yet it doesn't mean that it's not worth experiencing.
A pause for an afternoon tea with the high-end hotel's executive and marketing communications assistant, Luisa Amor A. Laguna, together with some colleagues from the Iloilo Bloggers Society last December 19 made the experience worthwhile, especially with a conversation on how the tradition of having an afternoon tea started.
The traditional English afternoon tea
Drinking tea is a Chinese custom which dates as far back as the 3rd millennium but it gained its way to England in 1660's. The concept of an afternoon tea, however, became more popular somewhere in the 19th century after Anna, the Duchess of Bedford, regularized afternoon tea as part of her day's routine.
During those times, dinner for the royals like Duchess Anna would start at around 8:00 in the evening and so an afternoon tea became a necessary interval between lunch and dinner for the Duchess who reportedly would go hungry late afternoon.
The Duchess of Bedford would request for a tea and some bread, butter, and cake be brought to her room everyday at 4:00 o'clock.
This practice slowly became part of the culture when Duchess Anna started to invite friends to join her for an afternoon tea at the drawing room. Sooner, it transformed into a society event and with the English elite women dressing up in trendy gowns with hats and gloves to attend an afternoon tea party.
Afternoon tea became an English high society gathering with women joining together to exchange the latest news on politics and gossip about their wealth, luxurious things, exploits, and the men in their lives over tea.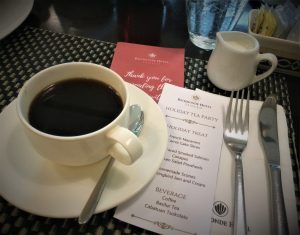 Be like Duchess Anna at Richmonde
Hence, it was not surprising that we found ourselves doing similar thing – conversing about what's hot and what's not and the happenings around town in this age and time.
The practice has evolved with modernity and so an afternoon tea has become a not purely tea afternoon, but mixed with other beverages like coffee and some cold drink preparations. Cold coffee and Iced Tea is said to have become part of the selection.
You don't have to travel to United Kingdom to experience an afternoon tea. Richmonde Hotel Iloilo has a holiday treat with a selection of a cup of Brewed Coffee, a Basilur Tea, or a locally made Cabatuan Tsokolate.
It comes with a three-tiered curate stand with each tier plate holding a set of treats. From the top is a selection of French Macarons and slices of Carrot Cake; middle tier plate has Open Faced Smoked Salmon, Canapes, and Chicken Salad Pinwheels; and the bottom tier has Homemade Scones and a Hummingbird Jam and Cream.
Enjoy an afternoon tea this Yuletide Season at the Richmonde Hotel Iloilo.