The Philippine Food and Drug Administration (FDA) has approved a new treatment indication of Dapagliflozin for the treatment of Chronic Kidney Disease in adults with or without Type 2 Diabetes.
The announcement was made by AstraZeneca on March 10 as the world celebrated Kidney Day after the Philippine FDA approved Dapagliflozin of its new indication for the treatment of Chronic Kidney Disease (CKD) in adults and as it pledged stronger commitment to patients on kidney health.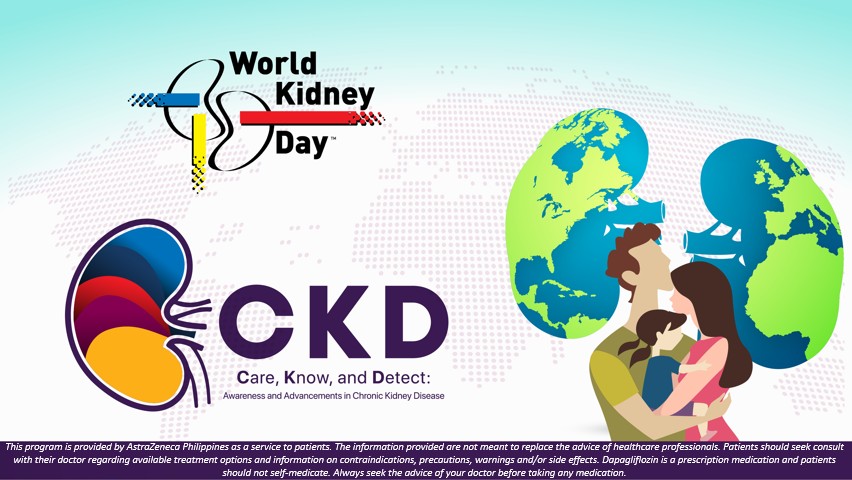 This approval was based on the DAPA-CKD trial which showed benefits in slowing down the progression of CKD, decreasing the likelihood of end-stage kidney disease and death.1 This important milestone came in time for the celebration of the World Kidney Day (WKD) with the theme, "Kidney Health for All", and its mission to provide better access to information on renal health, management, and treatment for Filipinos.
Kidney Health for All in the Philippines
One Filipino develops CKD every 40 minutes, and one Filipino CKD patient progresses to dialysis every hour. Impaired kidney function remains to be one of the highest causes of death and disability in the Philippines according to recent data. Chronic Kidney Disease has been identified as a leading cause of premature death among Filipinos. The 2018 data report also showed that out-of-pocket spending on healthcare was almost double the allotted government healthcare expenditure, emphasizing the need for support among Filipinos in renal care. Renal dialysis across the Philippines have steadily climbed over the past few years, signifying the rise
of kidney-related patients, and its impact to local quality of life.
Globally, CKD had been recognized as an emerging public health issue, with an estimate of 1.4 million deaths around the world just in 2019, a 20% increase in number from 2010 data.6 The same report also claimed that this increasing number might be due to the rise of CKD risk factors such as diabetes, hypertension, obesity, and other heart-related diseases.
Also read: Act Now to save heartbeats & keep love alive – HFSP
In light of this worsening burden, it has become more urgent and apparent that there is a crucial need for CKD treatments around the world, especially in the Philippines. Moreover, despite the high numbers of CKD patients across the country, underdiagnosis remains to be a huge problem, impeding the need for early screening to prevent progression of CKD to dialysis and mortality.
A nephrologist, Dr. Nickson Austria added "As the burden of CKD weighs heavier on patients' shoulders, it's very important to have these initiatives from the WKD committee and AstraZeneca to bring more attention to the issue, and hopefully bring us closer to solutions and treatments."
Hence, DAPA-CKD trial for WKD is a timely breakthrough.
The "Dapagliflozin in Patients with Chronic Kidney Disease" study proved that Dapagliflozin, originally used as a treatment for Type 2 diabetes, was also effective in treating CKD. Data showed that it reduced the risk of kidney function decline, end-stage kidney disease or death from any cause. More than 4,304 patients across the globe were enrolled, with 115 patients coming from the Philippines, proving the applicability of the results to Filipino CKD patients. Safety finding in patients with and without type 2 diabetes were consistent with the well established safety profile of Dapagliflozin in previous studies.
"The success of the DAPA-CKD trial provides patients with additional treatment options to treat CKD and improve quality of life. This breakthrough is a very important milestone and we are eager to share with the Filipino community. We hope that with discoveries like this the stigma of chronic kidney disease will be a thing of the past." shared by Dr. Rey Isidto, a Nephrologist and the National Lead Investigator for DAPA-CKD.
Care, Know and Detect for Chronic Kidney Disease
This initiative to transform CKD management and promote kidney health education is in line with AstraZeneca Philippines' Kidney Patrol advocacy campaign launched in 2021, which aims to answer the unmet need of addressing the low awareness of Chronic Kidney Disease and its complications. The project also seeks to give the right information on CKD and encourage Filipinos to consult with their physicians to know their risk and to detect CKD early. In this way, CKD can be addressed early and delay the progression to dialysis and its complications.
"AstraZeneca believes that every Filipino deserves good quality of life despite diseases such as Chronic Kidney Disease. Through education on early prevention and management, we hope to curb the worsening mortality rate from CKD and provide patients with better access to information and care. The recent approval of Dapagliflozin for patients with CKD is a concrete example of our longstanding commitment to innovation and Filipino healthcare," remarked by Lotis Ramin, Country President of AstraZeneca Philippines.
In the Philippines, Dapagliflozin is approved for glycemic control and for the prevention of new or worsening hospitalization for heart failure or cardiovascular death and nephropathy in adult patients with Type 2 Diabetes and approved for the treatment of heart failure with reduced ejection fraction in adult patients. It is now
approved in adults for the treatment of Chronic Kidney disease.9 Dapagliflozin is a prescription medicine. Patients should not self-medicate and should consult their physicians regarding their condition and, available treatment options and information on contraindications, precautions, warnings and/or side effects.