You will discover and learn, not only about local products and souvenirs at Tinukib, but also the rich history of its new home as it brings back the life and times of Patrocinio Gamboa, the "Heroine of Jaro" as its new center called the "Casa Gamboa."
"Little is known about Patrocinio Gamboa's role in local history, said notable Ilonggo historian Demy P. Sonza, yet Tia Patron, as she is known, is one who significantly contributed in the history of Panay, particularly on her participation in the Philippine Revolution against Spanish rule.
Tia Patron's house, located at the corner of Commission Civil and Jayme Sts. in Iloilo City's Jaro District, is considered a historical landmark after the National Historical Commission of the Philippines unveiled the marker near its main door in April 30, 2015 – the occasion of its 150th birth anniversary.
It used to be owned and occupied by MicroEnsure and later acquired by the Tinukib Foundation Inc., an institution established by Tay-tay sa Kauswagan, Inc. to serve as the arm to encourage entrepreneurship, especially among local micro and small entrepreneurs and to provide support services to social enterprises in the region.
Discover local products at Tinukib
Tinukib stands true to its name having a wide selection of products that one would fail to encounter in the mainstream and commercial market. Tinukib is a Hiligaynon word which means "discover" or "discovery."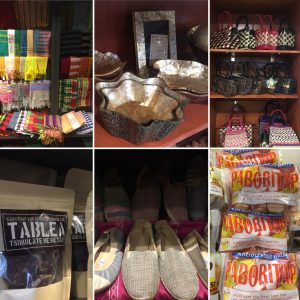 A visitor can find a variety of locally produced foodies, delicacies, local fabric like hablon, barong, home furnishing, house accents and furniture, bags, trinkets and fashion accessories. Its showroom at the ground floor of Casa Gamboa contains products from different micro and small entrepreneurs in the provinces.
It likewise opened its café in order to offer Kape Miro, coffee produced by the indigenous highland community of Nagpana in the town of Barotac Viejo. Kape Miro is a civet coffee from Asian Palm Civet called locally as "miro."
Earlier this year, Tinukib opened its branch at the high-end section of Festive Walk Parade at the Megaworld in order to provide accessibility to end-users and visitors to Iloilo.
The opening of Tinukib at Casa Gamboa was envisioned as a full relocation of its pasalubong center from TSKI's Corporate Office located in Brgy. Mali-ao in Pavia town.
"We opened Tinukib at Casa Gamboa to improve accessibility to the products of micro and small entrepreneurs and provide convenience to local and foreign visitors to Iloilo," said Angel de Leon, Jr., chairman of TSKI and TFI during the opening ceremony held October 30, 2017.
Cherry Ganancial, executive director of TFI, shared that Tinukib will complement the historical significance of Casa Gamboa for apart from serving at its office for operations; it will also develop its second floor as a museum which will be named Casa Gamboa Jaro Museum.
The Heroine of Jaro
"Patrocinio Gamboa is not a man but a woman," clarified Demy P. Sonza during his sharing on the story of Gamboa.
The confusion illustrates the little that people know about Tia Patron and its role in the fight against Spain. She is among the first to join the revolution and served as one of the organizers of the Comite Central Revolucionario de Visayas.
She exercised her revolutionary role by nursing the wounded and sick soldiers in the battlefield, collected contributions from donors like the Chinese in Iloilo, and gathered food, medical supplies, arms and ammunition for the revolutionary forces.
Patrocinio Gamboa was responsible of successfully preparing the replica of the Philippine Flag made by Marcela Agoncillo for General Emilio Aguinaldo in Hong Kong, in time for the inauguration of the revolutionary government of the Visayas in November 17, 1898 at the headquarters of General Martin Delgado in Sta. Barbara, Iloilo.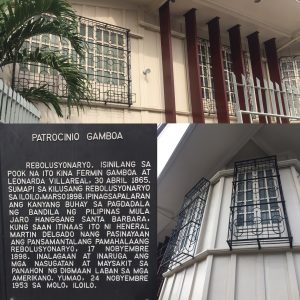 In spite roadblocks by the Spanish guards from Jaro to Sta. Barbara, Gamboa and young lieutenant Honorio Solinap, was able to bring the flag to the inauguration after wrapping it around her waist and by Gamboa and Solinap acting as husband and wife quarreling at the checkpoint.
Patrocinio Gamboa declined the offer of lifetime pension by the colonial government for her services she rendered to the revolution against Spain by declaring: "I give my services for the love of country and ask no compensation in return."
Gamboa died in November 24, 1953 and was buried at the Balantang Veterans' Cemetery with full military honors.
In recognition of her heroic deed, a marker was installed at the Jaro Plaza in December 21, 1980 by the National Historical Commission of the Philippines and another one later in her house, now Casa Gamboa. These honors made her the only Filipino Heroine who is memorialized by two historical markers by NHCP.
Her life and story is immortalized in the chapter of the book authored by Demy P. Sonza entitled: "Visayan Fighters for Freedom." Sonza likewise serves as a member of the Board of Trustees of TSKI and TFI.
(Archived News –  November 5, 2017)