The non-profit organization ChildFund Philippines together with the marketing and public relations firm Evident introduced a set of guidelines to journalists which serves as a guidepost in the coverage and in reporting cases involving online sexual exploitation of children (OSEC).
The guidelines was deliberated during a media workshop held November 22 in Manila. It was organized to increase the understanding of journalists on the issue and to improve reportage on OSEC.
According to ChildFund Philippines and Evident, the Philippines is considered as one of the hotspots for OSEC. They shared a National Baseline Data on Violence Against Children which illustrate that there are 80 percent of children ages 13 to 24 year old who experienced some form of violence in their lifetime whether in the home, school, workplace, community or during dating.
Part of these violent episodes includes sexual violence, such as; rape, commercial sexual exploitation of children (CSEC), and online sexual exploitation of children (OSEC). It is interesting to note that OSEC did not get a detailed discussion nor its landscape was described in the National Baseline Study, making it a critical point of discussion in child protection, legislation, and media.
The significance of guidelines
"This project with the Child Rights Network and Evident is a big step towards making sure that media reporting of OSEC use the proper language, apply the right terms, and observe the nuances," said Allan Nunez, ChildFund Philippines Advocacy Specialist.
"This is very important in making sure we're protecting children when we report the issue," added Nunez.
The proposed guidelines was presented by first defining OSEC, what are OSEC-related abuses, and principles for reporting issues involving children. The workshop also examined prevailing reportage on OSEC and it identified pitfalls in reporting. Hence, it encouraged careful reporting by using appropriate language; avoiding the use of sexualized images of children; and verifying the credentials of organizations who represent the interests of children, among others.
"We want to #ShutdownOSEC. We want the stakeholders – legislators, media, the general public, and children – to understand that OSEC is a type of sexual abuse that they have to detect and report accurately," Nunez said.
Defining OSEC
Child Rights Network defined OSEC as grooming, live streaming, producing and consuming child sexual abuse material, and coercing children for sexual purposes.
Grooming is a technique used by pedophiles for OSEC and it is attained by developing a relationship with a child to enable sexual abuse and or exploitation.
A United Nations Children's Fund (UNICEF) study have showed that majority of the offenses are physical violence, bullying, and witnessing psychological violence at home. Sexual violence comprise around one in every five cases.
Incidence across all types of violence are higher for LGBT children. In terms of prevalence across types of violence, incidence at home is the highest and followed by incidence at the community.
Examining (non)compliance
To come up with the guidelines, Evident collected and analyzed three years worth of news articles and releases on print and digital publications with national and provincial coverage.
Articles were then categorized into three news groups, namely: (1) coverage on OSEC crimes, (2) relevant bills/ laws and programs, and (3) incidence and case study reports.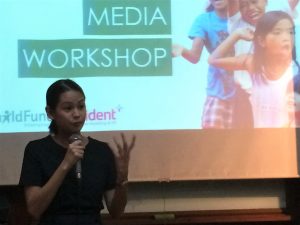 The analysis of data also showed that most Philippine media networks are inadvertently non-compliant with the proper use of OSEC definitions, largely due to the lack of codified OSEC guidelines. The most common incidences of non-compliance were incorrect referencing of child sexual abuse as child porn, and unequal treatment of male and female sources of OSEC.
"Our end goal is to raise greater awareness of the issue so that families and communities become aware of the potential dangers to their children." noted Evident CEO Dominguez-Yujuico.
"We need everyone's help in order to curb this problem and the media is a powerful ally in stopping OSEC in the Philippines. With these guidelines, we are hoping that the media can be our partners in this important advocacy," Dominguez-Yujuico concluded.