The Dakila Media Collective for Modern Heroism and Active Vista in partnership with TBA Studios has embarked on another roadshow which reignited the spirit of heroism among the youth in the Visayas for this year's leg of "Bayani Ba 'To: Being X School Tour".
This year's roadshow carried the viewing of the trailer of the film Goyo: Ang Batang Heneral in order to once again spark a national conversation on heroism among the millennials.
A similar effort was also rolled-out by the group and its partners in 2015 which popularized the film Heneral Luna directed by Jerrold Tarog eventually becoming a box-office hit after it stirred social media and face-to-face discussion and debate as viewers and the public examined the answer to the question: "Bayan o Sarili?"
A sequel to the film Heneral Luna, Goyo: Ang Batang Heneral portrays the story of Gregorio del Pilar (Paulo Avelino), who is one of the youngest generals during the Philippine-American war.
"Heroes should not be seen as just black and white," said Leni Velasco, executive director of the learning institution, Active Vista.
"They are more complicated than that," described Velasco "simply because they are humans too, who face their own struggles. The more that we get to know our heroes, the more that we need to be critical, not just of their deeds, but also of our own judgment and beliefs."
Goyo's tour of the Visayas
The Visayas-leg of the roadshow started its first school tour at Silliman University in Dumaguete City. It then visited University of St. La Salle, STI West Negros University, and La Consolacion College in Bacolod City.
In Iloilo City, viewing of the trailer and forum was held at the University of San Agustin and West Visayas State University.
The school tour was attended by more than 250 students together with school officials, faculty, artists, film makers, and academics.
The students and educators from each of the university that were visited had an opportunity to watch an exclusive preview of TBA Studios' 20-minute short film, "Angelito" which serves as a link between both Heneral Luna and Goyo.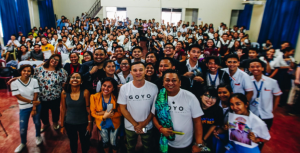 A learning event and a making of modern heroes
The Bayani Ba 'To: Being X School Tour is a learning event with film viewing and interaction with the characters who portrayed the role of the heroes and persons responsible in putting together the film.
The participants were able to visualize the realities during the period of our heroes as revealed in history lessons by historian John Ray Ramos after artist Alfonso Manalastas crystallized it in #LahingDakila spoken word.
The portrayal highlighted the words of Ramos when he said that "The past, present, and future form one stream, underscoring in Filipino that "Ang kasalakuyan ay produkto ng mga desisyon ng nakaraan. Ang mga desisyon mo sa kasalakuyan ang bubuo sa iyong hinaharap."
The discussion was further complemented by resource persons who attended the tour like actor Epy Quizon and TBA Studios' public relations head Monina de Mesa and production manager Lexter Tarriela after talked about the film and by encouraging the youth to exercise critical thinking of our heroes; of our history; and of ourselves through the character of Goyo.
Quizon, who portrayed the role of Apolinario Mabini shared that "the film will open questions in your minds. Please do ask those questions. Please find the answer, if you must. Be part of the solution."
For her part, Dakila Executive Director Rash Caritativo expressed similar sentiments by adding, "Because it is only in asking that we learn, that we are able to analyze and understand. And when we understand, we are able to take a stand and fight for what is right for the common good."
With these, we are hoping that this would inspire students to become examples of their local heroes, such as: Dios Buhawi, Teresa Magbanua, Graciano Lopez Jaena, Aniceto Lacson, Juan Araneta, and many others who took the challenge to shape our nation's history and wielded a revolution for social transformation.
The Bayani Ba 'To Roadshow has travelled to almost 70 schools since 2015 for TBA Studios' Heneral Luna, reaching more than 30,000 young audiences and educators. The effort has effectively sparked conversations on the history and heroism and it heightened people's awareness.
For this series, the "Bayani Ba 'To?" forum explores true heroism and to keep in mind who we are in order to realize who we can become with Goyo: Ang Batang Heneral. Goyo will be in cinemas nationwide starting September 5, 2018.